Although more than 426,000 children per year—nearly 50 every hour—visited an emergency department in 2015 due to a wheeled sports-related injury, survey respondents (parents) admit that their kids don't always wear a helmet while riding bikes, scooters, skates, and skateboards.
The respondents were among 1,600 parents surveyed, as part of a new report from Safe Kids Worldwide and Nationwide's Make Safe Happen program. The report, called "Ready for the Ride: Keeping Kids Safe on Wheels," explored parent's beliefs and actions to protect their kids while bicycling, scootering, skating, and skateboarding.
"We know that kids follow their parents lead, and if they see their parents wearing their helmets, it's much more likely they'll do so as well," says Torine Creppy, interim president at Safe Kids Worldwide, in a media release. "And just making sure that kids have a comfortable, properly-fitted helmet will do wonders to keep that helmet in place and give kids a safe ride."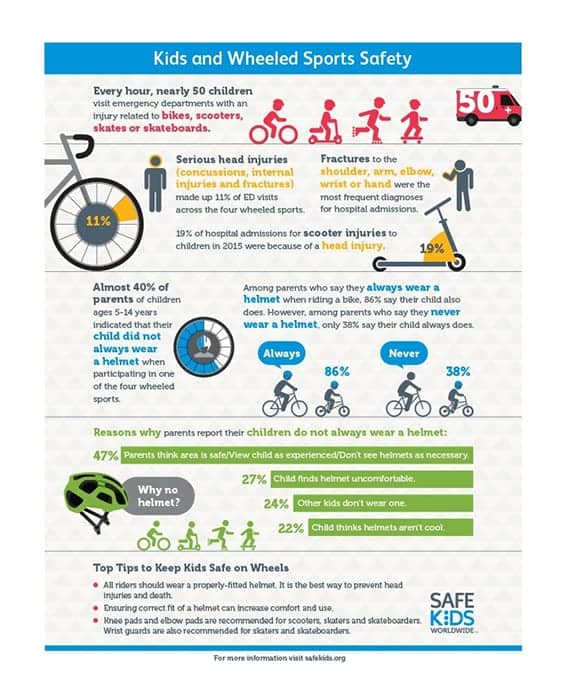 Between 2005 and 2015, the number of ED visits for bike- and skateboard-related injuries decreased, but visits for skate- and scooter-related injuries increased significantly. In fact, scooter-related injuries shot up by 40% over the 10-year period. Worryingly, the release notes, the survey found that parents were least likely to make children wear a helmet while scootering at only 57%.
"While it's encouraging that the bike-related injuries are down, the number of kids still getting hurt is far too high—especially considering that many of these injuries could be avoided by simply wearing a helmet and other safety equipment," states Mike Boyd, senior vice president of marketing at Nationwide. "We're hoping this information will remind parents and children alike about the importance of wearing a helmet every time they bike, skate or ride a scooter."
The report includes statistics and other information that answers the following questions, among others: Are kids wearing other protective equipment; What are kids getting injured riding; What are kids riding; and How can parents protect kids.
In addition, per the release, the report includes more detailed findings from the survey as well as additional statistics and safety tips.
[Source(s): Safe Kids Worldwide, PR Newswire]