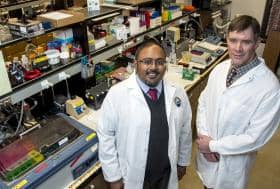 Two research professors from the University of Montana (UM)—Sarj Patel, PhD, and Tom Rau, PhD—have received a $300,000 grant from the National Football League (NFL) and General Electric to study traumatic brain injury (TBI). Tissue samples provided by a Boston brain bank helped the two researchers identify biomarkers stemming from TBIs that closely matched their work with animals. A news report from the Independent Record notes that the discovery helped them gain attention from the two organizations.
The Head Health Challenge recently announced the grant and promised additional funding for research that continues to show potential, according to a news report from the Independent Record. Patel states, "It's surprising but exciting. GE and the NFL want to advance both treatment and diagnosis, and understand how TBI affects the brain. They're looking for new and exciting science."
The Independent Record news report indicates that early efforts have shown that TBI changes how the brain operates as well as changes the level of certain proteins and ribonucleic acids, or RNAs, present in the brain after injury. Patel says, "We're interested in how certain proteins are changing their expression in the brain following TBI. It's a signature that says something has happened."
Whether the changes persist over time or are reversible remains a mystery, and after a TBI, behavior and cognitive changes generally disappear. As such, researchers wonder if long-term changes linger, and if they do, if it may be detectable in blood samples, according to the Independent news report.
Patel explains, "We will collect blood samples from people who have suffered from a traumatic brain injury to see if we can detect these molecules and ultimately determine how long it might take for them to return to play or service." Patel said the new grant will help drive their research forward and will give "us insight into possible intervention, where we may be able to target therapies."
[Photo Appears Courtesy of University of Montana]
[Source: Independent Record]