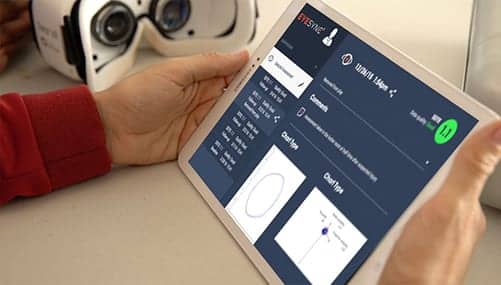 Washington, DC-based Children's National Medical Center is launching a year-long study examining ocular motor deficits in children and adolescents with concussion.
In the study, researchers will collect normative performance data and evidence for reliability and validation of the EYE-SYNC technology for patients aged 6 to 16.
EYE-SYNC is the FDA-approved eye tracking platform developed by Palo Alto, Calif-based SyncThink.
Leading the study are physicians and researchers Gerard Gioia and Christopher Vaughan, the director and assistant Director of the Children's National Safe Concussion Outcome Recovery and Education (SCORE) program, according to a media release from SyncThink.
"The SCORE program at Children's National was established in 2003 with the mission of promoting developmentally appropriate assessment and treatment for children with concussion," Vaughan says. "Measuring eye tracking in youth with the EYE-SYNC product may improve our multimodal and developmentally sensitive assessment process."
A great need exists in the pediatric population for early detection and appropriate, early intervention of concussion, in order to promote full recovery without the risk of complications. The SCORE team will utilize the EYE-SYNC technology in part to better understand and recognize ocular motor issues seen commonly after injury.
"By identifying ocular motor specific problems after concussion, we can move toward providing early targeted treatment interventions for these kids with ocular motor and vestibular problems after injury," Vaughan adds, per the release.
"This is a tremendous opportunity to collaborate with a premier medical center and their esteemed faculty in Dr Gioia and Dr Vaughan, to help establish the EYE-SYNC technology as a reliable assessment tool for the care of children and teens," states SyncThink CEO, Laura Yecies, in the release.
[Source: SyncThink]