As part of National Physical Fitness and Sports Month in May, ATI Physical Therapy releases "The State of Physical Therapy," a report based on an analysis of patient records from its hundreds of practice locations across the United States.
The more than 600,000 patient records analyzed of patients seen at an ATI location during the time period 2015-16 were from ATI's Patient Outcomes Registry, part of the Agency for Healthcare Research and Quality's Registry of Patient Registries.
The analysis revealed patterns based on geographic location and demographics, according to the Bolingbrook, Ill-based provider, in a media release.
These patterns included the tendency for Millennials to be treated for Temporomandibular Joint Disorder (TMJ) more than any other condition, potentially connected to high levels of stress. In addition, nationally, the top five issues for which patients received physical therapy are hip, back, knee, foot, and hand injuries.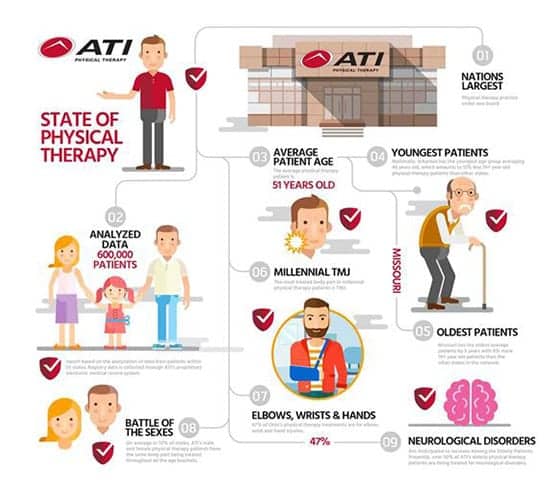 Additional information from the report includes the following, per the release:
Nationally, the average physical therapy patient is 51 years old; patients in Arkansas are the youngest, on average, at 45; and patients in Missouri are the oldest, with an average age of 70.
Male and female physical therapy patients tend to be treated for the same presenting complaints, throughout all age brackets.
ATI practices in Ohio are seeing an increase in elbow, wrist, and hand injuries, with 47% of physical therapy treatments being for those specific injuries, according to the Outcomes Registry analysis.
"We've seen a rise in wrist and hand injuries in Ohio, so we'll be keeping a close watch on that data moving forward to see if hand and wrist injuries may be on the rise nationwide," says Dr Chris Stout, vice president of research and data analytics, ATI Physical Therapy, and founder of the ATI Patient Outcomes Registry, in the release.
In addition, the analysis notes that more than 50% of ATI's elderly physical therapy patients are being treated for various neurological problems, such as multiple sclerosis, Parkinson's disease, cardiovascular incidents, traumatic brain injury, abnormalities of gait and mobility, hemiplegia, or other motor neuron diseases.
This number could increase in the coming years, as the elderly population is expected to double by 2050.
"Ultimately, this type of data is integral for us to find and collect so that ATI can work to further improve the healthcare system and better understand the needs of our patients so we can be more proactive in our therapy approach, " Stout explains.
"We are going to continue analyzing registry data to make the State of Physical Therapy visible to the larger market, helping to ensure this data is shared with the relevant audiences and groups so we can all be working toward a common goal of bringing innovative solutions and therapies to the healthcare arena."
[Source: ATI Physical Therapy]