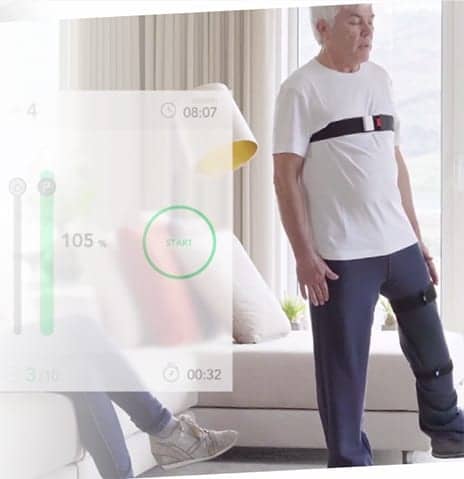 Two recent studies compare artificial intelligence-powered physical therapy delivered by SWORD Health's Digital Therapist versus traditional physical therapy provided in a clinic.
A study published in Journal of Medical Internet Research suggests that SWORD's Digital Therapist not only helps patients have a quicker recovery but also that the therapeutic results are long-standing after six months.
In another study, findings published in Nature Scientific Reports suggest that SWORD Health's AI-powered digital therapists combined with remote clinical teams recover knee patients faster than the traditional patient-to-therapist intervention.
The group of patients also reported increased treatment compliance, fewer symptoms and pain, and better quality of life in comparison with the group that had face-to-face sessions with a human therapist, the company notes in a media release.
The Nature Scientific Reports study included 59 individuals who were followed for 8 weeks. Participants were split into an experimental group of 30 people using SWORD's combined AI and human approach and another group of 29 people using a traditional physical therapy approach to knee injury recovery.
According to the results, the group using SWORD's Digital Therapist improved twice as much than the conventional physical therapy group in the test that objectively measured their recovery (Timed Up and Go test). The same results surfaced for the subjective, patient-reported quality of life assessment regarding the existence of symptoms or pain and the ability to perform activities of daily living.
The second study, published in Journal of Medical Internet Research, demonstrates that the benefits shown in the group using SWORD's Digital Therapist are maintained 3 and 6 months after surgery, without additional treatment beyond the 8-week program. The results apply to objective performance measures and also to subjective scales of pain, quality of life and ability to perform daily activities, the release explains.
"These findings prove SWORD Health's innovative approach is the future of physical therapy," CEO Virgílio Bento shares. "We are not just dramatically reducing costs for physical therapy. We are actually proving to be a better, faster, and tremendously more convenient approach to physical therapy that enables patients to recover at home."
[Source(s): SWORD Health, PR Newswire]