Activities that children engage in on a daily basis—not just contact sports—could result in concussions, according to a study published in the Journal of Pediatrics.
In the study, researchers from Children's Hospital of Philadelphia (CHOP) and the Centers for Disease Control and Prevention (CDC) examined the mechanism of injury for concussion among more than 1,500 children ages 0 to 17 who were seen for medical evaluation at CHOP.
They note that although the majority of concussions were related to sports and recreational activity (70%), 30% were due to non-sports and non-recreational mechanisms. Only 40% of all concussions were from contact sports, such as football and soccer, according to a media release from Children's Hospital of Philadelphia.
"Injury mechanism varies by age," says Christina Master, MD, senior study author and a pediatric primary care sports medicine specialist at CHOP, in the release. "Sports and recreation-related activities become the primary source of concussions beginning at age 6, increase in proportion up to age 10, remaining constant until age 16, then take a small dip at age 17 which may be due to an uptick in motor vehicle crash injury and attrition from sports."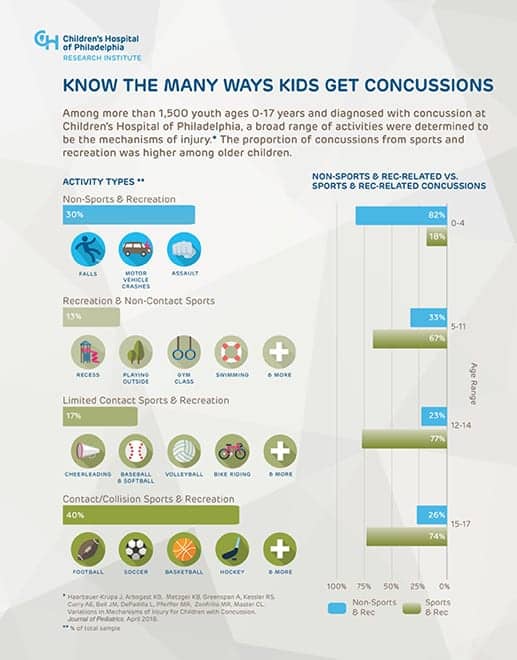 The cause of concussions other than from contact sports tended to occur in limited or non-contact sports and recreation activities (playground, recess, gym) and non-sports and non-recreation activities (falls, motor vehicle crashes, intentional assaults).
The combination of gym class, recess, and playground (all similar activities) would represent the fourth most common sports and recreation-related activity – following football, soccer, and basketball and ahead of ice hockey, the release continues.
"Clinicians and school-based personnel need to be aware of the fact that concussions also happen in life and not just sports and must also have the appropriate index of suspicion for diagnosing these injuries," Master states.
"This study tells us that we need to extend traumatic brain injury prevention and management outside of youth sports to ensure all children who sustain a concussion receive the necessary care to return to daily childhood activities, including school and play," says Juliet Haarbauer-Krupa, PhD, study lead author and senior health scientist at CDC's National Center for Injury Prevention and Control, per the release.
[Source(s): Children's Hospital of Philadelphia, PR Newswire]