By Frank Long, MS, Editorial Director
Coronavirus be damned, they would continue to party regardless of public health warnings.
It is difficult to look back at the video footage of young revelers on Miami area beaches shot in mid-March. The twenty-somethings recorded in those frames proclaimed their intention to ignore social distancing warnings during their spring break bacchanal regardless of the disease spread they could cause. Since that time a sobering sense of maturity has set in as the health threat that COVID-19 poses to all ages becomes better understood.
Times have changed
The images of those young beach goers encapsulates the blissfully ignorant notion of the time that the novel coronavirus was really only a concern for older adults. That idea was embraced even by reliable sources that were not misreporting so much as they were simply uninformed.
The data available in March was less robust than it is now seven weeks later. With so much information missing it was easy to fill the gaps with bias and conjecture. For example, when the World Health Organization released its findings that the greatest mortality was among people older than age 80 years, it was easy to ignore that other groups were still being affected
Likewise, the Journal of the American Medical Association published an early report that tracked the course of COVID-19 in Hubei Province, China. That report may also have unintentionally suggested only older persons were at serious risk since it spotlighted findings that most cases occurred among individual age 30 years to 79 years. Furthermore, the article reported that no deaths were recorded among the group age 9 years and younger.
While those data in the JAMA article are presumed accurate they may unintentionally have underplayed the risk to children.
Provisional COVID-19 Death Counts by Sex, Age, and State
In the last two months the data regarding mortality and age is more complete. What those data say is that children, teens, young adults, and adults entering middle age have all succumbed to COVID-19.
Column six of the table below reports the number of deaths related to COVID-19 by age as of May 2 and updated May 6. The table is a screen capture created May 11, 2020, from the CDC.gov website.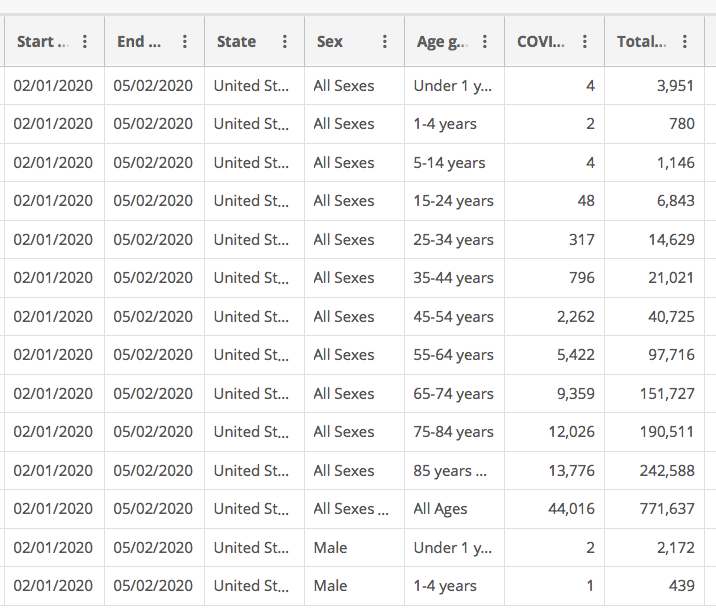 Now we know better
Four months after virus-related illness began to shake up the landscape of American healthcare medical understanding about the virus is better understood.
One aspect of the enlightenment is that the threat to very young children, while still rare, is real and should be something about which pediatricians and physicians approach with a healthy suspicion during patient encounters. The alarming new reality of COVID-19 among young children was underscored in a May 9 address by New York Gov. Andrew Cuomo, who reported that so far three children in New York have died from causes believed to be reated to the coronavirus. Two days later Cuomo reported that 93 cases of pediatric multisymptom inflammatory syndrome, believed to be related to COVID-19, had been identified among children in New York. At least 38 of those cases were within New York City.
The threat to youngsters is not confined to New York. According to the Chicago Tribune about a half-dozen children in Illinois have also been hospitalized with the syndrome and cases have been reported in California, Delaware, Louisiana, Massachusetts, New Jersey, Pennsylvania, Washington, and Washington, D.C.
The new reality
Despite what the CDC data say about mortality and infection rates there are still pockets of non-believers; individuals who dismiss the virus as unwarranted hysteria or a political manipulation. Still others gather to protest ostensibly what they feel is a civil rights violation. Even among the most determined prevention resisters, however, things are beginning to change.
One place where change is occurring is the White House, where top members of the executive branch seemingly have been reluctant to don face coverings both inside and outside of White House grounds. However, there are now reports that such coverings have become a mandatory part of the dress code for those who work in the building's West Wing. This change comes on the heels of COVID-19 infections reported among several White House aids who work near the president.
Whether the appearance of personal protective equipment in the White House is symbolic or sincere it is an important and positive development. This change in dress code seems to signal a willingness to respect the lethal potential of the novel coronavirus within any setting. It is an indicator that minds are changing about who is or is not within harm's way of COVID-19 and confirmation that where minds can be changed, so too, can the course of the disease be changed.