CAPTION: To get the most out of strength training, patients will likely need 6 to 8 weeks of consistent resistance training. They should be using the right weight, and the external stimulus should challenge them over time.
Incorporating strengthening exercises into physical therapy can enhance recovery and relieve pain, although clients and even some physical therapists might need some convincing.
By Nate Murray, PT
Strength and resistance training are often associated with personal training, athletics, and other fitness areas instead of traditional rehabilitation. In fact, some physical therapists even advise patients to avoid strenuous activity on the field or in the gym. Although this is sound advice for some cases, there is still room for improvement in how physical therapists implement strength training in rehabilitation. And because physical therapy is often not associated with strength training, clients who might benefit from this treatment may be skeptical. With this in mind, here is information that may help allay any concerns clients may have about the benefits of strength training for rehabilitation and pain management.
Strength Training in Physical Therapy
Strength training is a fitness routine that elicits a physiological response. As you strengthen your muscles through external resistance, the muscle adapts, resulting in hypertrophy or strength gains.
Keep in mind that this requires consistency. It will take about 6-8 weeks of consistent resistance training to see results. The overall goal is to strengthen the tissue around an injured or pathological joint. And traditional rehabilitation could fall short because therapy only makes the muscles more efficient, but not strong enough to withstand force.
As the client practices strength training, his or her tissue will adapt and become stronger. That means the stimulus should challenge the client enough to push his or her muscle strength further.
Consider having a patient train a particular muscle group about 2-3 times a week and get enough rest and recovery time. You as the physical therapist can help track the client's progress.
Clearing Up Misconceptions
A lot of misconceptions abound, and they're usually related to safety and pain. Here's how to combat any doubts.
Misconception 1: Strength Training Isn't Safe
One of the biggest misconceptions about strength training in rehabilitation lies in safety. Some believe that a patient can get injured if they bend forward, place too much weight on the body, or move in the wrong direction. Though these concerns are valid, they only seldom happen.
But the truth is, strength training helps build tissue resilience and adaptability. That means minor errors in a client's form won't cause significant harm.
In some cases, some physical therapists hesitate to teach the principles of strength training to patients without experience lifting weight. However, it's best if a patient begins strength training under the guidance of a physical therapist. This way, they can properly learn the appropriate technique and exercise early.
Misconception 2: Physical Therapists Lack Know-How
Some people worry that their physical therapists aren't well-versed in strength training and therefore won't be able to properly guide them on how to properly perform an exercise.
It may help to explain to patients that physical therapists are qualified to teach patients because they undergo training to understand how the body moves. And this means they're perfectly capable of teaching the basics like the right way to perform squats or overhead presses.
Misconception 3: People Lack Equipment or Discipline
This misconception revolves around patient compliance, and worries about a lack of access to equipment or how to perform physical therapy without supervision. But the counterargument is simple: patients don't have to force themselves to perform physical therapy. Performing the exercises individually is possible if the patient is interested enough to learn how. Simply reading up on technique and purchasing equipment is already a big step in the right direction.
Should patients require more help performing the exercise, they can visit their clinic more frequently or ask help from another health professional so they can train safely.
Misconception 4: Bad Posture is the Cause of Pain
Many patients have attended physical therapy with the notion that their posture is the root cause of their pain.
In some cases, it can be a contributing factor, but not the root cause. There are patterns of static posture that often unveil the areas of strengthening that the therapist can focus on with a patient. Though postural correctives are a successful modality utilized in physical therapy, they are only part of the solution because rarely is posture the actual cause of pain.
At LifeClinic, our physical therapy services take posture into consideration but utilize it as a supplement to the treatment and rehabilitative process. We find that it helps steer the focus of our strengthening programs.
Misconception 5: Pain Stems from Pathology
Pathology may play a part in pain symptoms. However, imaging studies reveal that some asymptomatic individuals with pathologies in their musculoskeletal system don't experience pain or dysfunction. It's important to educate patients and assure them that the pain may be correlated to pathology and not the direct cause of the pain itself.
Misconception 6: Avoid Movement When in Pain
If something hurts, shouldn't it make sense to avoid moving at all? Wrong. Movement is safe as long as you don't push yourself too hard. For example, if a patient starts experiencing something beyond mild discomfort maybe it's a sign for them to reduce the intensity. If adjusting the intensity doesn't seem to alleviate the symptoms, the exercise may be too aggressive at that stage of rehabilitation.
Health professionals or physical therapists have a responsibility to encourage and educate patients about safe levels of discomfort with activity instead of completely omitting activity that provokes pain. It's also their responsibility to educate the patient in how to utilize movement to ease pain.
Importance and Health Benefits
Let's take a moment to expand on the importance and benefits of strength training. First, resistance training makes a patient less prone to injuries because it strengthens the muscles. If someone trains and strengthens their range of motion and works out their extremities or joints, they can better withstand force and stress.
Strength training also boosts confidence. For example, wouldn't your face light up with joy if you were able to properly execute a 65-pound deadlift from the ground safely and easily? Constant practice makes it easier for patients to perform daily activities like carrying a large load of dirty clothing to the laundry room with ease.
Strength training can also help patients adapt to new ranges of motion, reduce inflammation, and increase the density of bones, ligaments, tendons, and cartilage.
[sidebar float="right" width="250″]Product Resources
The following companies provide weights and accessories:
Bailey Manufacturing Company
https://www.baileymfg.com
Brookdale Medical Specialties Ltd
https://www.brookdalemedical.com
Dynatronics
https://www.dynatronics.com
Exertools
https://exertools.com/
Hausmann Industries
https://www.hausmann.com
PHS Medical by Pivotal Health Solutions
https://www.phsmedicalsolutions.com
SportsArt
https://www.gosportsart.com
Stretchwell Inc
https://stretchwell.com[/sidebar]
How to Develop a Strength Training Rehabilitation Program
A strength training rehabilitation program requires a strong foundation. To lay the groundwork, here are a few basic guidelines to follow.
First, patients should be using the right weight, and the external stimulus should challenge them over time. Once you find the right weight, the patient should perform a few sets of 8-12 repetitions. Assess if the exercise is providing an adequate stimulus, then decide if you should add more weight, sets, or reps.
Second, mapping out the progression of the patient's rehab journey is a must. Pick one aspect to work on for 4 weeks and progressively increase the intensity of exercise. Most often, this entails adding more weight, but you can also increase sets or reps.
Third, apply supersetting. In basic terms, supersetting involves following a series of two or more exercises performed in a circuit-like fashion. An example would be a pulldown and external rotation performed back-to-back as one complete set. The patient should allow enough time to rest before another set.
Fourth, incorporate compound exercises. These types of exercise offer better functionality compared to traditional exercises because they help rehabilitate the affected tissue through an external stimulus. For example, a patient who has knee pain could learn how to deadlift properly. As a result, the exercise could help load the posterior chain, support the quads, limit the range of motion in the knee, and reduce irritability.
Lastly, be creative yet simple. After all, strength training is meant to be fun and engaging. If you aren't sure where to start, return to the basics and find out what works best for the patient. If the client is already working with a fitness professional, he or she could ask them for tips.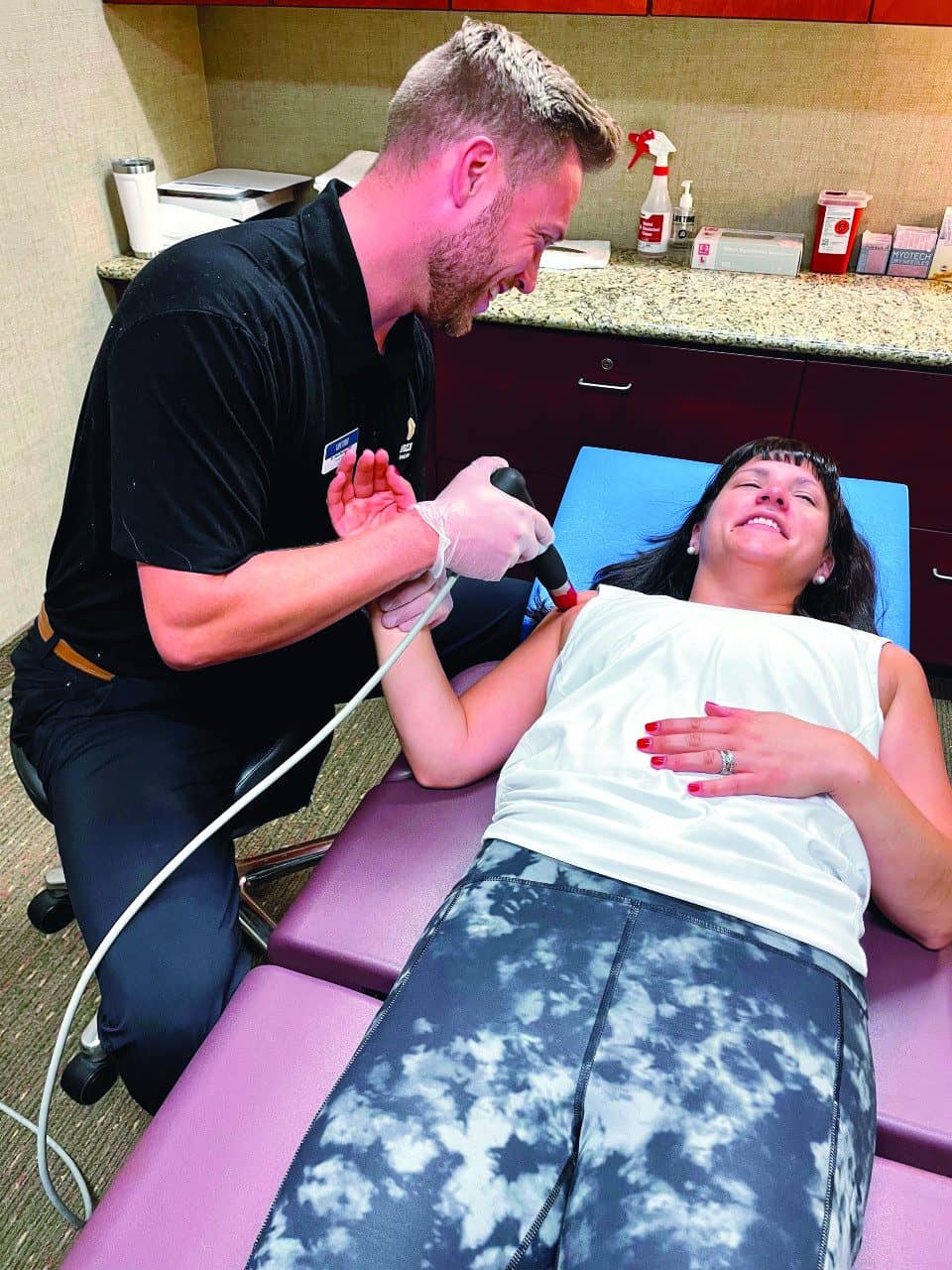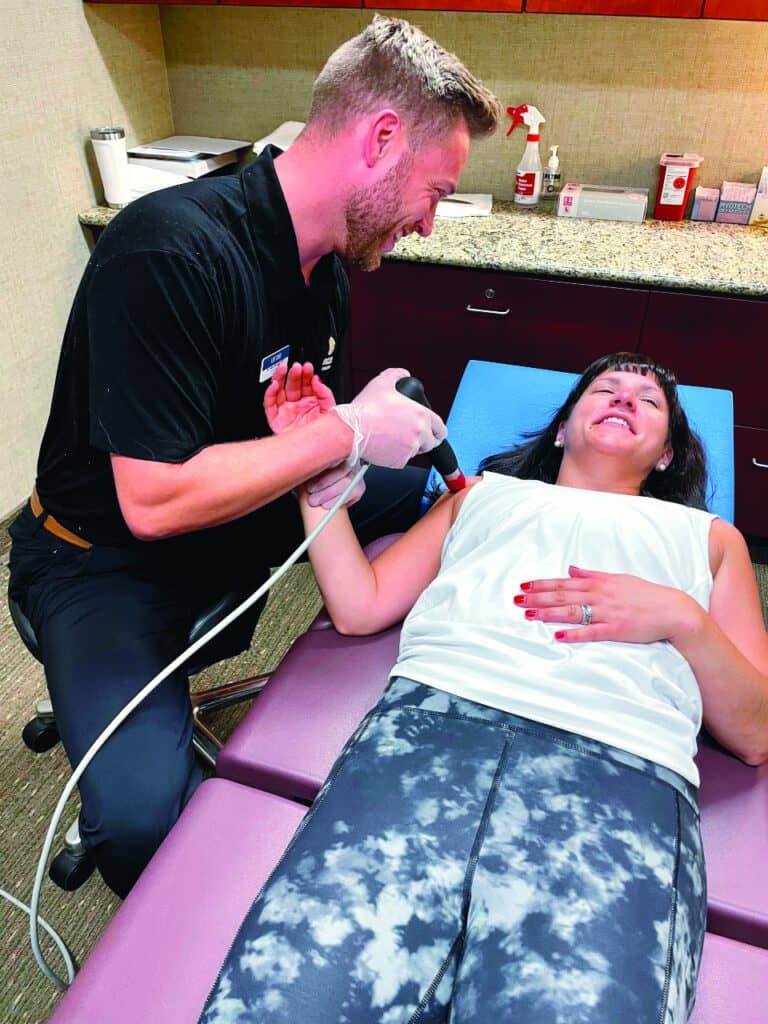 Evaluation and Assessment
At LifeClinic, we evaluate our patients by identifying the root cause of the pain. We go beyond simply detecting whether the pain is a result of pathology or injury. We assess the patient's overall functional movement.
The first evaluation allows us to assess a person's tissues and identify the starting point of our rehabilitation programs. We conduct a more comprehensive examination of the surrounding tissues as the pain begins to diminish.
The most important aspect is understanding what's most important to our patients and making sure it's reflected in the treatment they receive.
Model: Restore, Maintain, Optimize
At LifeClinic, our physical therapy treatment helps restore, maintain, and optimize body function. But what does this mean? Here's a way to break it down for clients so they can better understand the approach to treatment.
Restore
As the first step, the physical therapist will partner with the client to provide treatment to reduce pain and increase mobility. This often consists of passive treatments and modalities such as soft tissue mobilization, joint mobilizations, as well as high-velocity and low-amplitude thrust manipulations. LifeClinic also offers dry needling and shockwave therapy for patients in need of restorative treatment.
Dry needling is a soft tissue technique used to relieve muscle pain and tension. The needle targets the trigger points and stimulates the tissue. In turn, it increases blood flow and creates a neurophysiological response that can help ease a patient's pain and promote the body's natural healing mechanisms.
Shockwave therapy is an innovative treatment method that helps treat patients with chronic tendon or muscle-related problems. The technology utilizes mechanical acoustic sound waves that penetrate deep into the tissue and create an acute inflammatory response. It reinvigorates the tissue so a client can heal and return to normal function.
Maintain
The second initiative within LifeClinic's process focuses on maintaining proper function when performing daily activities. We help all patients, including high-intensity fitness athletes, marathon runners, and sedentary adults with a desk-based job. This phase will guide the client in how to move better.
We encourage clients to visit a physical therapist even before they feel any pain or dysfunction. This way, they can continue performing activities safely with enough room for improvement.
It is also important for patients to continue having touchpoints to ensure better health outcomes. Aside from physical therapy, our therapists can also help prevent future pain and injury by providing alternative care.
Optimize
This part of a client's rehabilitation journey is where we complement our physical therapy practice with load management and strength training.
At LifeClinic, we believe that strengthening the body and tissues is what helps people ultimately perform the activities they love.
Early-Stage Loads
The early stage of rehabilitation typically targets the tissues around the problem area. Most of the time, the area being treated is irritated, making it difficult to train directly. For example, if pressing motions in the shoulder show signs of irritation, it's best to focus attention on the posterior aspect of the shoulder.
Mid-Stage Loads
As the pain begins to ease, you can focus more on the patient controlling their movement and avoiding further tissue irritation. Performing exercise with tempo works best for this stage.
The trick is to strike a comfortable balance between the amount of force being exerted and the patient's level of discomfort. People's level of discomfort takes top priority since we don't want to end up working patients too hard. However, we want to challenge them to at least 70% capacity.
End Stage – Developing Resilience
As a patient approaches the end of the rehabilitation program, the new focus will be on strength and resilience. In this phase, the patient's tissue has nearly fully recovered, and their movement only presents minimal pain. They can gradually introduce more power into their movements and train their joints and soft tissue, even their affected areas.
For example, a client can improve the resilience of the anterior knee through heel-elevated goblet squats. Just make sure not to make the load too heavy too quickly, as it could cause pain. Maintain a progressive load to build tolerance and make the anterior knee more resilient to squatting, running, and/or jumping. PTP
Nate Murray, PT, is a physical therapist at LifeClinic Chiropractic & Rehabilitation in St Louis Park, Minn. He received a Doctor of Physical Therapy and Master of Science in Exercise Physiology from the College of St Scholastica. For more information, contact [email protected].