A look inside how a physical therapy clinic chose what facility-based equipment to buy before opening its doors to the public.
By Melanie Hamilton-Basic
Opening a new physical therapy clinic is a massive undertaking, a large part of which involves determining what capital expenditures to make, such as facility-based equipment. It must meet the needs of the clientele, and someone needs to go through all the steps to procure it. Mark Waun, PT, DPT, knows this all too well. As clinic manager of the new Athletico Physical Therapy location in White Lake, Mich, he was instrumental in this process, along with Tracey Burke, vice president of clinical operations, Michigan at Athletico.
Waun and a patient experience coordinator make up the staff of two who expect to see approximately 50 to 70 patients per week come through their doors by the end of the clinic's first year. Among the services provided at Athletico White Lake are back pain/spine rehabilitation, endurance rehabilitation, hip rehabilitation, therapy for workers' comp and work injury clients, and free assessments. The clinic is now outfitted with all of the equipment necessary for these services to meet client demand, but getting to this point required a joint effort.
Identifying Patient Populations
As Athletico's vice president of clinical operations in Michigan, Burke has a deep understanding of the markets the company's clinics serve in that region. She first worked with Athletico management to research the details of potential clients' needs in White Lake in particular.
"Before we open a new clinic, our market development team spends time meeting with local healthcare providers to understand the patients and populations they have that need physical therapy and what those specific needs are," explains Burke. "This process helps us do two things: Determine the products needed for a new clinic, and identify new locations we want to be in based on the need for physical therapy or the need for increased access to high-quality physical therapy services."
While the company has an overall standard approach to opening new clinics, this initial research is important to ensure that each clinic is appropriately tailored to a community's needs. It helped Burke and her colleagues determine that many of White Lake's new patients would be athletes and workers' comp-related patients.
Once a general plan for a clinic has been established, Athletico leaves much of the particulars of the purchasing process to clinic managers because they are familiar with the patient populations who will be frequenting the practice, and can balance their anticipated needs against the available budget allocated.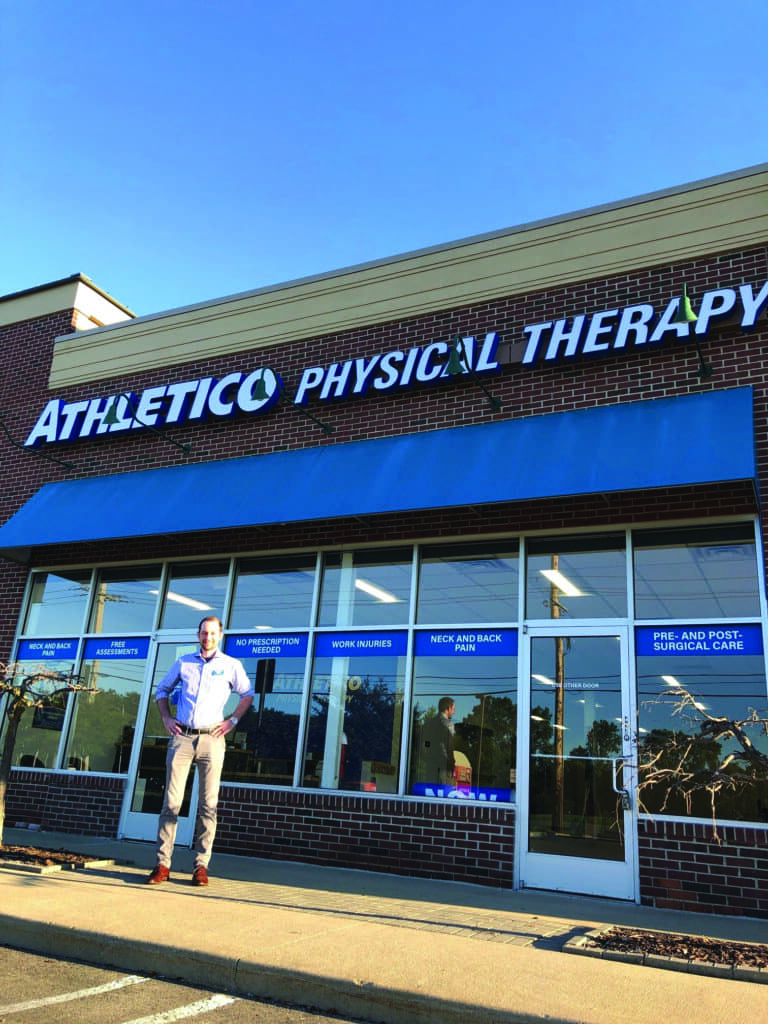 "We set the budget for a new clinic based on the unique needs of the community we are serving," says Waun. "White Lake in general is a community comprised of people who work as contractors, builders, plumbers, electricians, and other skilled labor jobs where work-related injuries are prevalent. As such, we expect to see a lot of patients with overuse injuries, rotator cuff tears, joint replacements, and more," says Waun.
The plan is to add equipment that can be used to simulate work tasks depending on clients' professions as needed as time goes on, Burke says. She also notes that Athletico regularly assesses clientele at its clinics to add any necessary equipment if new patient populations are identified later on.
"White Lake also has two high schools within two miles of the clinic, so we have an emphasis on treating athletes," adds Waun. "These two factors helped us determine the types of products and budget needed to serve the patient population."
Making it Personal
Athletico White Lake features a large, open space to provide general physical therapy and treat athletes and workers' compensation patients, as well as a separate treatment room for specialty services and private treatment needs. "The open concept space, seen throughout all Athletico clinics, creates a collaborative and motivating experience among patients and clinicians," Burke says.
But that doesn't mean every Athletico clinic is the same. Custom touches help each location feel like it's a part of the surrounding community and create a sense of belonging.
"Each of our clinics has a standard look and feel while also being personalized by our local team, often highlighting local community partnerships, activities, athletes, and schools," explains Waun. "This allows the team to have fun, show their support for their community, and take ownership of their clinic."
This philosophy of customizing a clinic to be a good fit for the community is of course mirrored in the choice of equipment.
"With the products we have available at our White Lake facility, we believe we are well positioned to meet the needs of the community," says Waun. "We have a unique advantage in that our large space enables us to have a variety of equipment to help people achieve their health and wellness goals."
Chosen Facility-Based Equipment
In addition to considering the needs of potential clients, staff selected products for the White Lake location based on their overall quality, price, and turnaround time from Athletico's primary vendors. Here is a look at some of the major equipment purchases found in the White Lake clinic.
Gait
Treadmills are workhorses in many therapy clinics because they have so many applications for different clients, and White Lake is no different. "The treadmill is used with a variety of patient populations. For athletics, we do gait and running analysis tests to ensure athletes have good running mechanics," says Waun. "It is also used for our geriatric patients to help them improve mobility, decrease fall risk, and enhance their overall quality of life."
An example of a treadmill that can be used for gait analysis is C-Mill from DIH Technology, Norwell, Mass. This instrumented treadmill with force plates provides real-time feedback for the assessment and training of impaired gait and balance in a visual, immersive environment. Another gait analysis tool is GAITRite from CIR Systems Inc, Franklin, NJ, a portable pressure-sensitive walkway that rolls out and is available in a variety of lengths.
Balance
As gait and balance often go hand in hand, the White Lake clinic also relies on a rebounder for many of its clients. "We use the rebounder trampoline to test dynamic balance in athletes," says Waun. "This is an advanced way of improving overall balance to help them return to sport."
For those who need to improve balance and practice walking after an injury or surgery, the clinic has a one-sided staircase, which is available from Bailey Manufacturing Inc, Lodi, Ohio. For a more advanced version, the Dynamic Stair Trainer 8000-PRO from Clarke Health Care Products, Oakdale, Pa, has electronically elevating steps that can be set to a patient's current ability and adjusted up and down as needed.
Workers' Comp
When it comes to injured workers who go to the clinic for therapy, the big-ticket items that get the most use so far are a weight sled and lift station. "Both the weight sled and lift station are primarily used with workers' comp patients to help simulate everyday work duties," says Waun. "Both products enable us to exceed the 50-pound weight limit, so we can look at a patient's pushing and pulling mechanics to get the information needed to allow them to return safely to work. These two products are unique to the White Lake clinic to serve the workers' comp population in the area and because not every physical therapy clinic has them."
Tables
There are many other products that Waun and his team use regularly to treat a wide range of clients, including treatment tables and a bariatric hi-low table. Tri W-G Inc, Valley City, ND, is one company that offers a wide selection of such tables, with many motorized models available.
Strength Training
For strength training, one major piece of equipment the clinic uses is a dual cable column machine. This is a versatile device that, like similar all-in-one systems, can be used for many different exercises to strengthen both the upper and lower body, as well as for balance training. The White Lake clinic also purchased an upright bike and upper body ergometer to focus on strengthening muscles of the upper and lower body separately. An extensive set of dumbbells helps round out the equipment set for strengthening exercises.
Pain Management
For pain management, a hydrocollator is great for heating "hot packs" to apply to clients' joints and muscles. When clients require stronger therapy, the clinic's ultrasound stim combo unit can provide pain relief.
Getting It Right
Every physical therapy clinic is different, and therefore requires different equipment. Understanding what makes a location and the members of its community unique is important to a clinic's ongoing success. "One piece of advice ahead of the purchasing process is to make connections with healthcare partners and those in the community to truly understand how your practice can make an impact," offers Burke. "Then, once you've determined the products needed in your facility, be open to continually assessing the needs of your patients (including identifying new patient populations) and be willing to add or adjust equipment as needed."
Melanie Hamilton-Basich is chief editor of Physical Therapy Products. For more information, email [email protected].
CAPTION: Knowing as much as possible about a community's medical needs helps determine what types of potential physical therapy clients to expect at a clinic in that area and therefore what types of equipment will best serve this population. Photo: Athletico
Product Resources
The following companies provide a range of products for capital expenditure purchases:
First Degree Fitness (Fluid Power Zone)