Sports seasons are long, and competition can take a toll on athletes' bodies. To perform their best throughout the season, athletes must not only continue to train their bodies physically but also manage the aches and pains—and rehab the various sports-related injuries—that can occur along the way. Physical therapists have a hand at both of these tasks, and have many products at their disposal that they can use to tailor to each athlete's needs. Among those showcased here are treatment tables, hot and cold therapies, treadmills, therapy pools, and braces. Profiles of these products from some of the country's top manufacturers give a brief glimpse into how they are designed to help keep athletes at the top of their game. More information is available by visiting each manufacturer's website.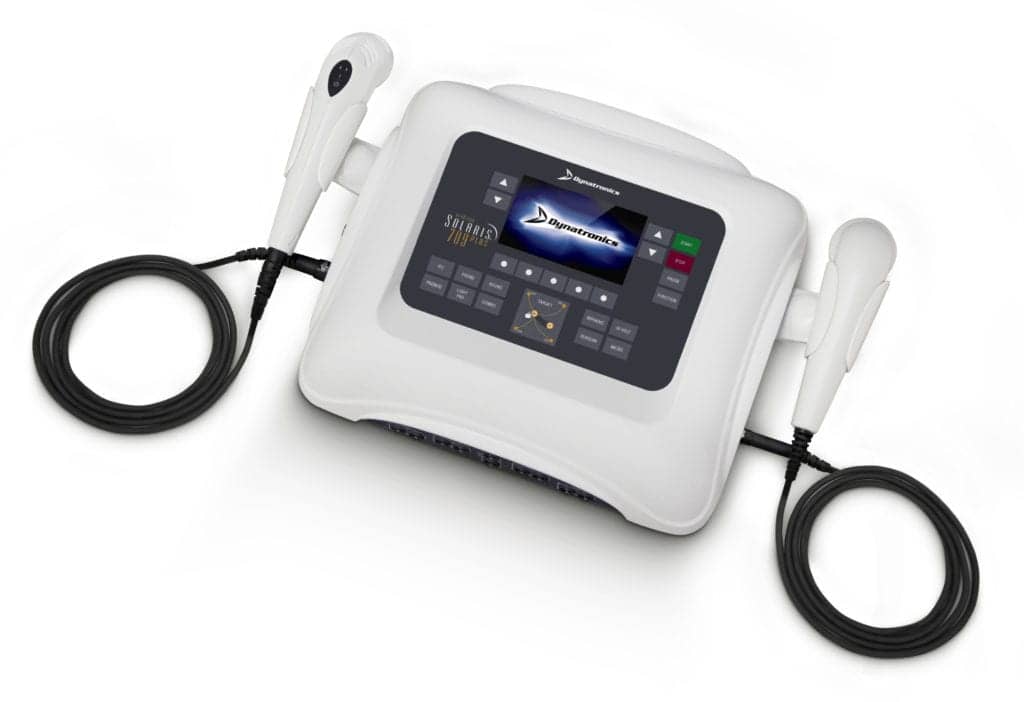 Light Therapy for Pain Relief
Like a workhorse, the Dynatron Solaris Plus, available from Dynatronics, Salt Lake City, is engineered to deliver six Stim waveforms—IFC, Premod, Biphasic, Russian, High Volt, Microcurrent, Fixed Frequency IFC/Premod, and three-frequency ultrasound. Additional options include the patented ThermoStim soft-tissue mobilization probe that treats with cold, heat, and electrical stimulation—all in one tool—and TriWave Light Therapy that provides red, infrared, and blue light treatments, delivered individually or in any combination.
For more information, contact Dynatronics, (800) 874-6251; www.dynatronics.com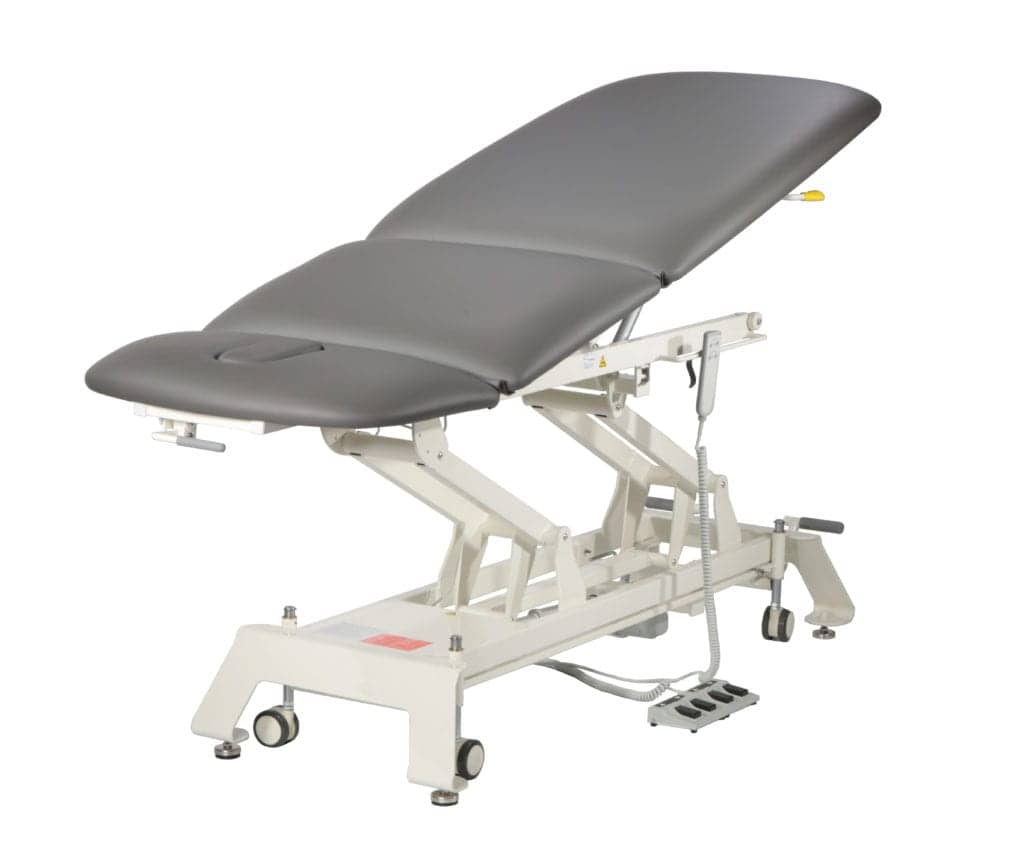 Three-Section Therapy Table
The TITAN 3-Section Table, Model 6083, from Hausmann Industries Inc, Northvale, NJ, is available in black or gray vinyl and features a large height range that can adjust via hand switch or foot switch. The height range spans from a wheelchair-accessible low height of 20″ and a top height of 39″ using an electronically controlled actuator. The 78″ x 29″ cushioned top comes in three sections. The 17″ Headrest comes with a nose hole cutout and filler plug and has a gas spring mechanism that will raise to 40° and drops to -75°. The 20″ mid section comes with a free motorized waist stretch which rises to 40°. The 39″ Backrest/Leg-Section has a gas spring mechanism that rises to 80°. The heavy-duty steel frame with four 3″ locking casters has a patient weight capacity of 440 lbs. The wide footprint gives stability yet easily lifts onto positioning casters with a foot lever.
For more information, contact Hausmann Industries Inc, (888) 428-7626, ext 155; www.hausmann.com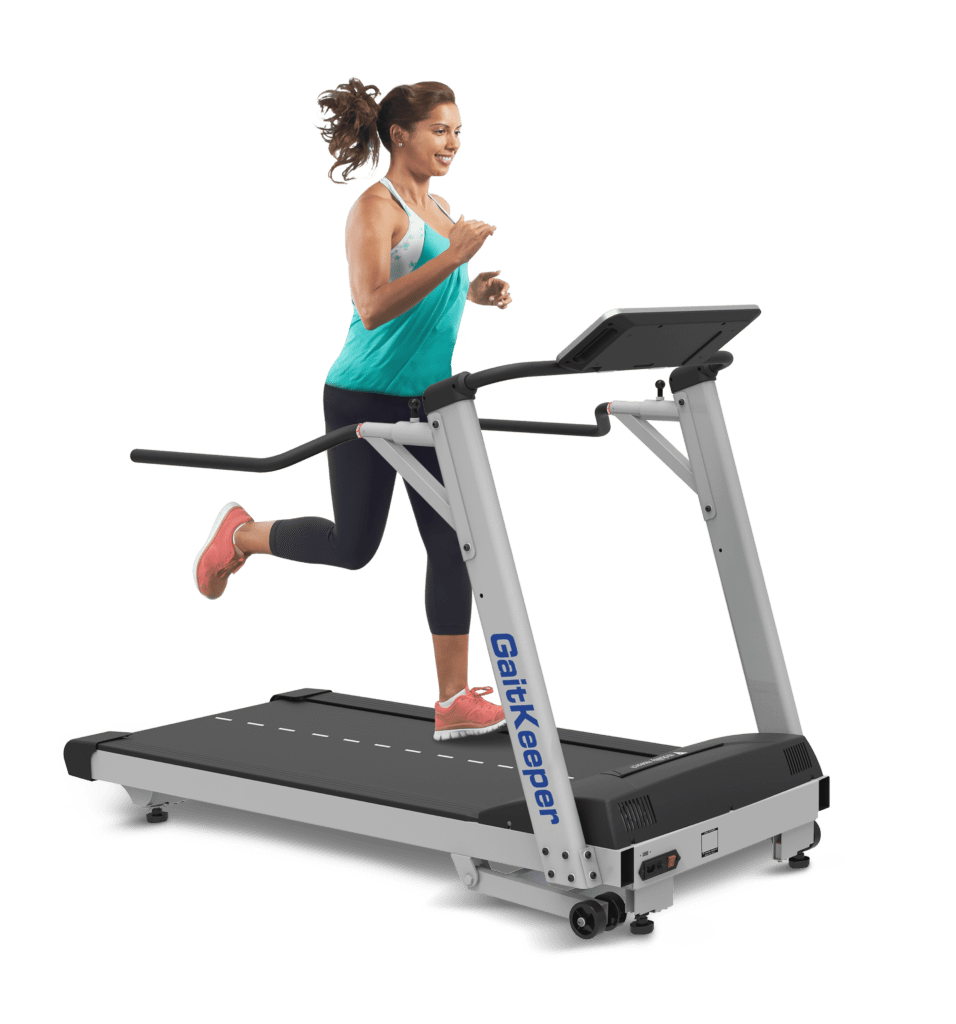 Rehabilitation Treadmill
The GaitKeeper S22, from Mobility Research, Tempe, Ariz, includes a 22″ by 56″ walking surface that can also move in reverse for more functional gait activities. The display shows distance in feet/meters and miles/kilometers and enables the therapist to program session goals. It is also removable to allow the clinician to monitor progress and adjust parameters from various positions while assisting or monitoring the patient. A true zero start and 0.1-mph increments allow for safe use for patients of all levels. Features include "Adjustabars" that offer easy height and width adjustment for patients of all sizes, speeds of up to 10 mph forward and 3 mph in reverse, inclines of up to 15%, and the ability to support users up to 400 pounds. Its AC motor produces high torque with cool and quiet operation, allowing smooth belt movement even at very low speeds and when transitioning from forward to reverse. GaitSens gait analysis software can also be built into the product.

For more information, contact Mobility Research, (800) 332-9255; https://litegait.com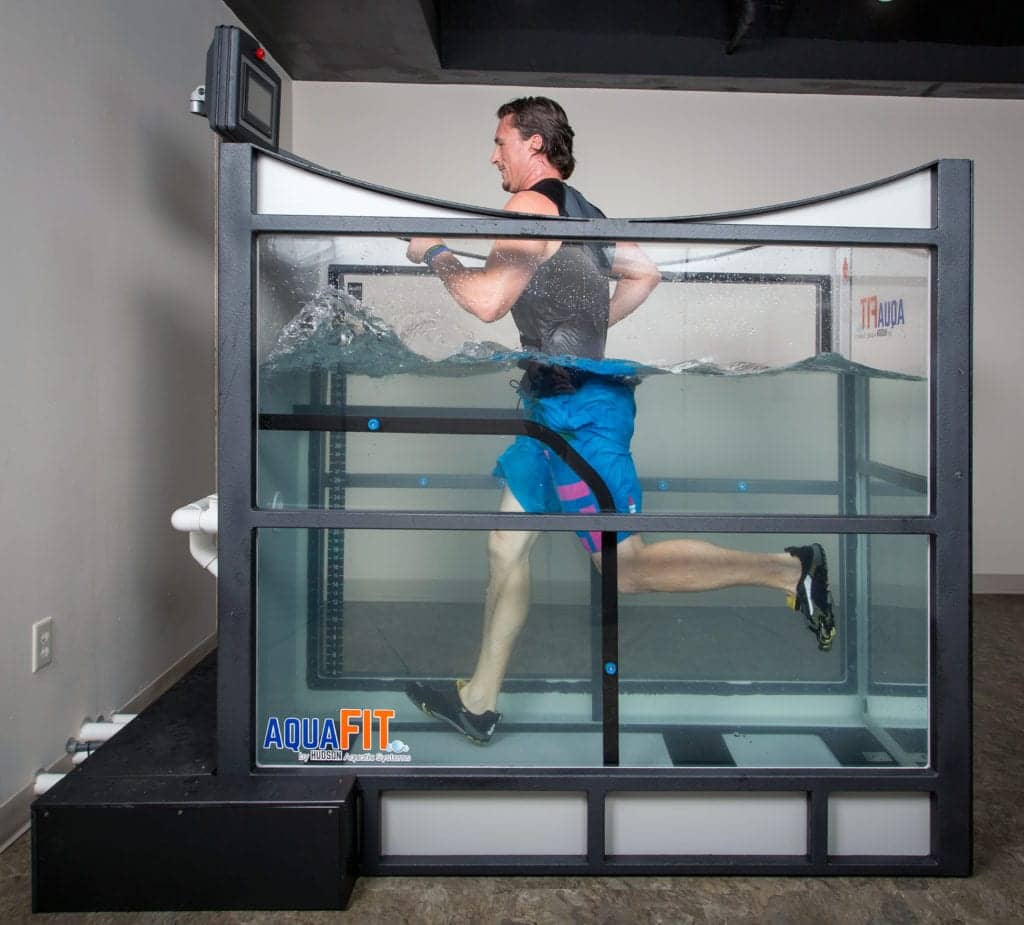 Hudson Custom Therapy Pools
Hudson Aquatic Systems LLC, Angola, Ind, designs, manufactures, installs, and services custom therapy pools according to a facility's existing space and new construction. The company offers three model types—above, partial above/partial in-ground, and in-ground—along with many options and ADA-approved patient lifts. Hudson also offers underwater treadmill systems and cold saltwater spa and plunge products with a 24-hour service line and water quality care program.
For more information, contact Hudson Aquatic Systems LLC, (888) 206-7802; www.hudsonaquatic.com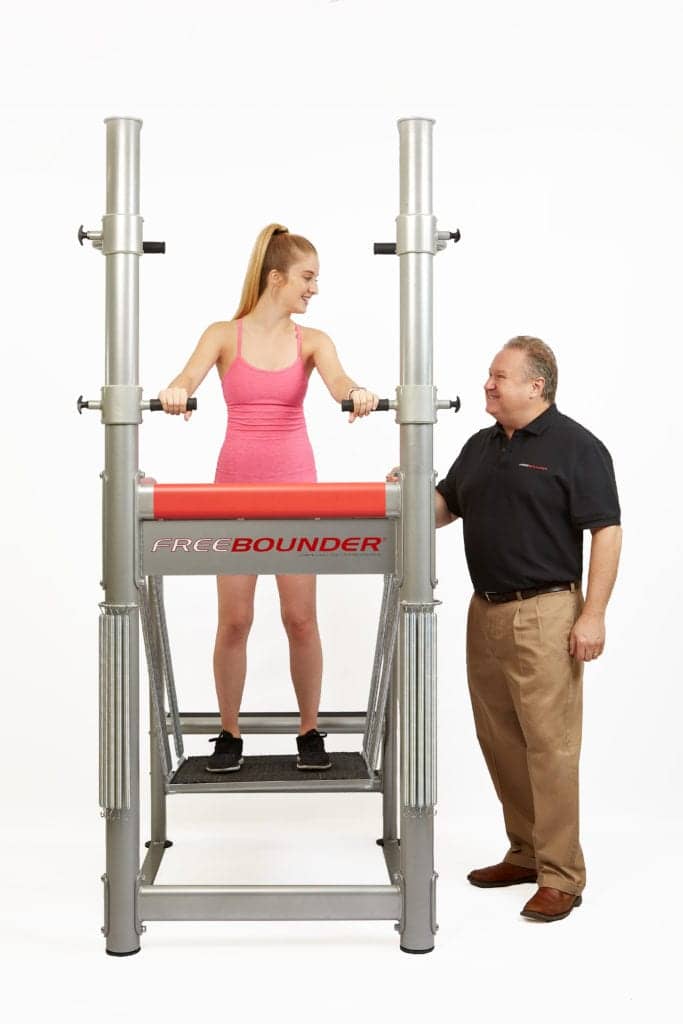 Fitness and Rehab Machine
The Freebounder multifunctional fitness and rehabilitation machine is designed to help users perform 12 exercises that provide substantial cardio, strength, and balance benefits in what University of Wisconsin testing suggests is half the impact of walking on a treadmill. The Freebounder has five patents and was invented by John G. Louis, a sports medicine pioneer and leader.
For more information, contact Freebounder, (800) 446-6468; www.freebounder.com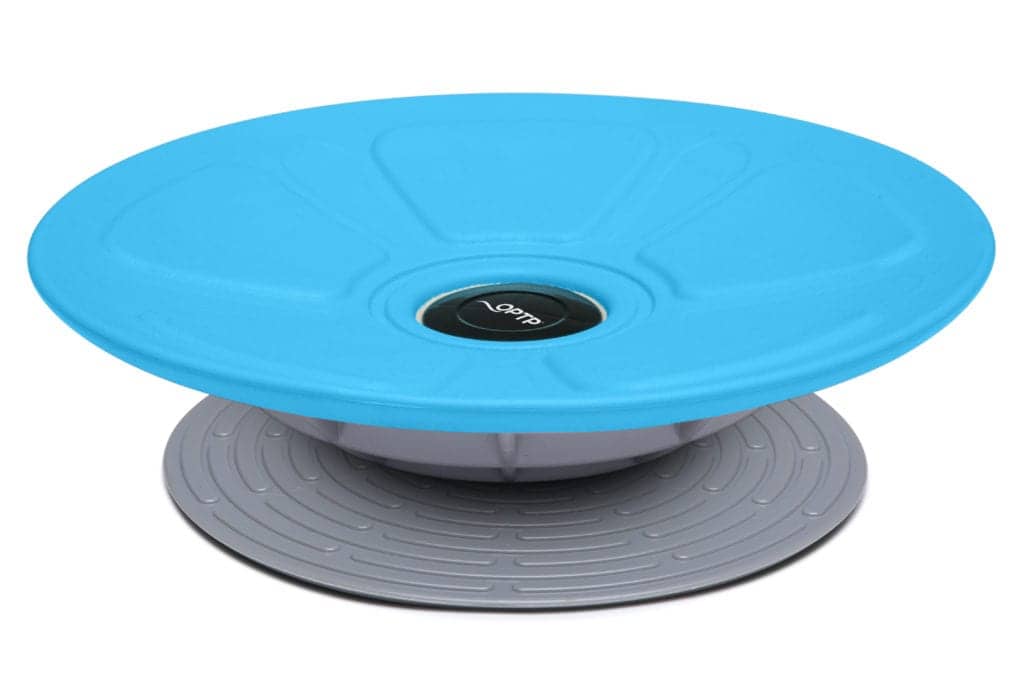 Core Trainer
The Pelvic Rocker Core Trainer from OPTP, Minneapolis, can be used for physical therapy, core strength and conditioning, mind-body exercises, and more. Movement and balance exercises including pelvic tilts, pelvic clock, V-sit, and many others can be performed in seated and supine position. Perform exercises on this platform to help challenge stability, improve core strength, encourage exploration of pelvic movement, and enhance body awareness.
For more information, contact OPTP, (800) 367-7393; www.optp.com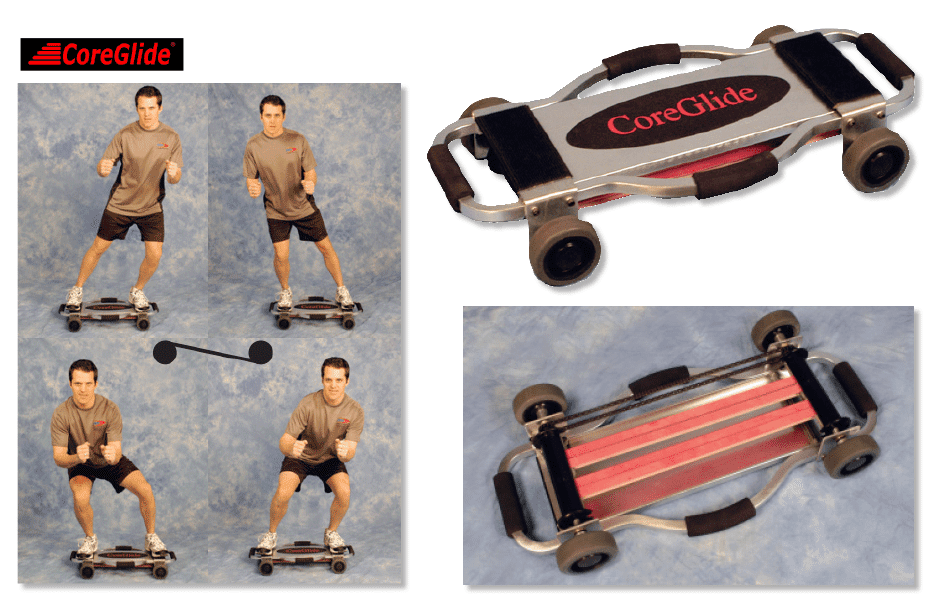 Core Trainer
CoreGlide, available from Exertools, Petaluma, Calif, is a trackless, portable and versatile system designed to offer controlled and/or reactive, upper and lower body activity-specific exercises. Invented by a certified athletic trainer and certified strength and conditioning specialist, it offers dynamic, multi-dimensional movement patterns that challenge balance, center-of-gravity sway control, and quick joint stabilization. Its self-contained resistance mechanism allows it to be set for multiple skill and fitness levels to integrate into any fitness program or prehab/rehab protocol. The system includes a CoreGlide board, resistance bands, and a board pad that doubles as a kneepad for certain exercises.
For more information, contact Exertools, (800) 235-1559; www.exertools.com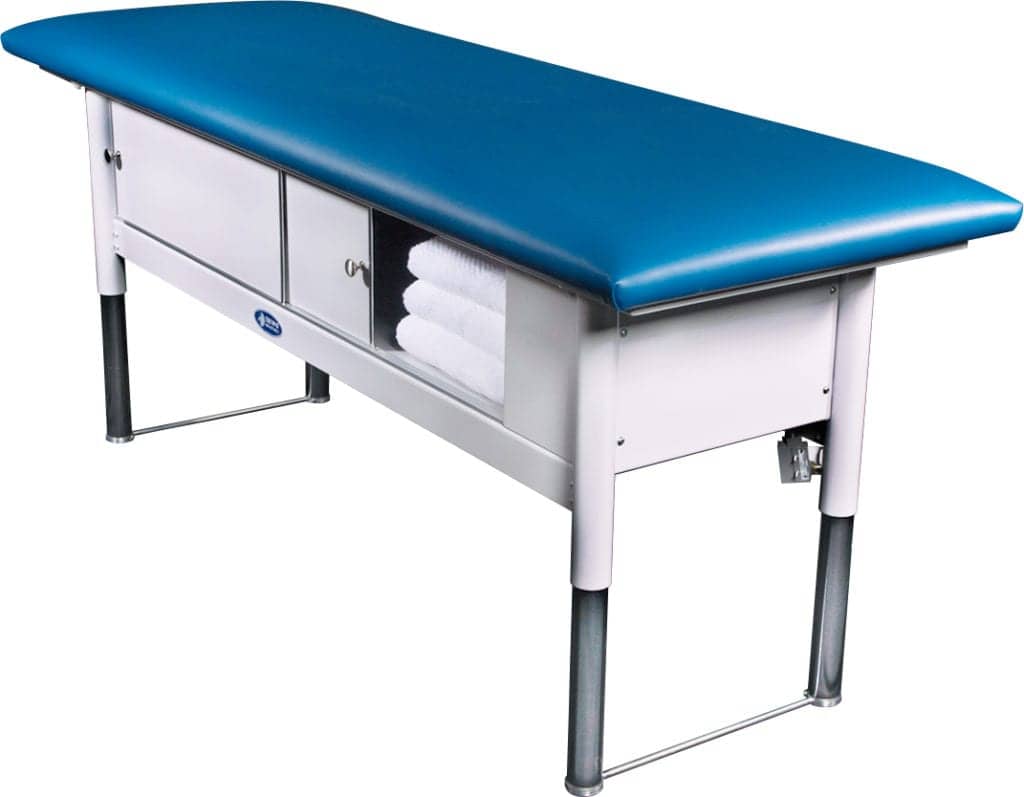 Treatment Table
Tri W-G, Valley City, ND, strives to build products with the strength and safety that customers and their patients need. The company's treatment tables are motorized hi-lo and are made to support 500 pounds of weight and to meet the highest safety standards. Features include a unique storage shelf that can be enclosed with sliding doors, as well as motorized raised back and leg section options.
For more information, contact Tri W-G, (800) 437-8011; www.triwg.com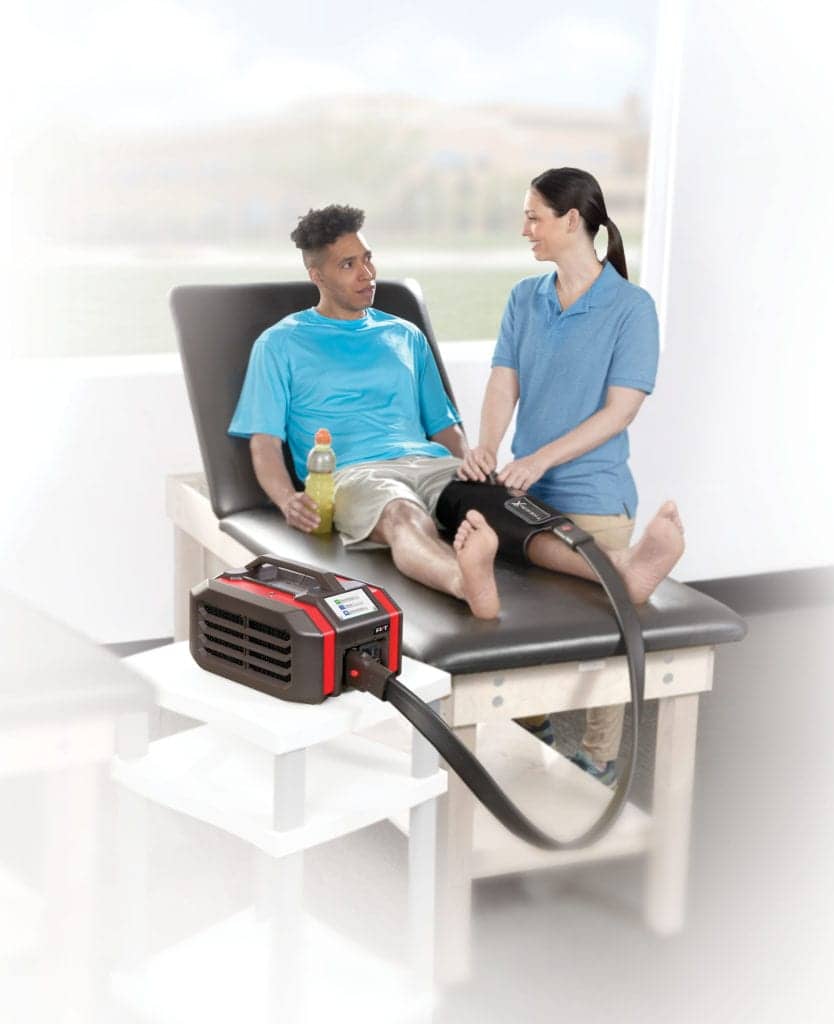 Therm-X Hot and Cold Therapy
The Therm-X, manufactured by Zenith Technical Innovations, is designed to provide hot and cold therapy via thermoelectric technology and circulating coolant. No ice is needed to generate temperatures between 34 and 110 degrees. Therm-X allows users to choose a compression level for its garments and can be programmed for alternating contrast temperatures.
For more information, contact Therm-X, (847) 672-7481; www.thermxtherapy.com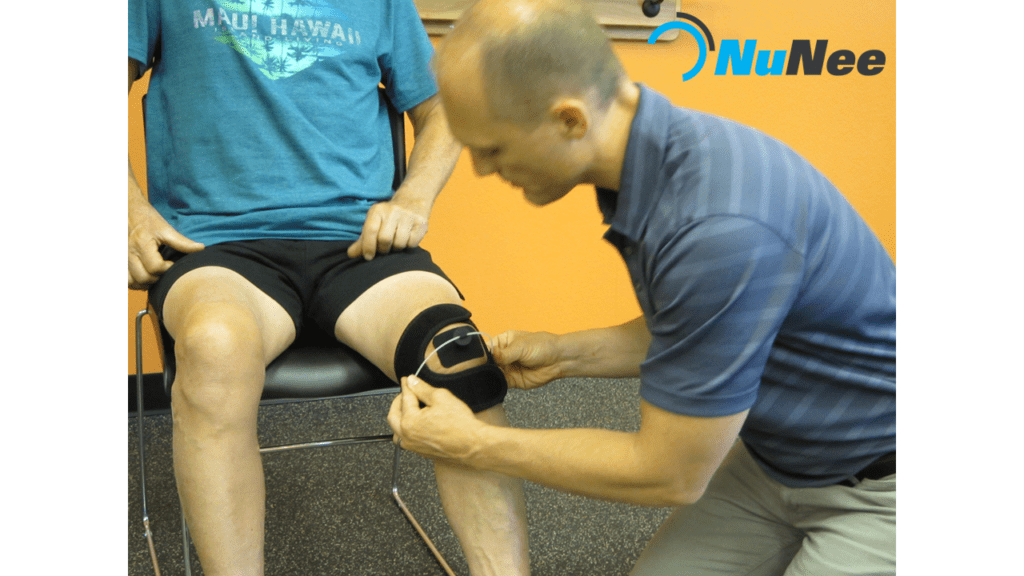 Knee Brace
Designed to function as a patella support, the NuNee brace, manufactured by K-Neesio LLC, Rochester, NY, relieves patellofemoral joint pressure while allowing the patella to track freely and naturally. Engineered to be comfortable, adjustable, and easy to apply, the NuNee can be used for diagnostic as well as treatment purposes, including to help relieve pain associated with patellofemoral pain syndrome, patellar tendinitis, chondromalacia, and osteoarthritis associated with the patella.
For more information, contact NuNee by K-Neesio LLC, (585) 500-1447; https://nuneeshop.com or [email protected]