Featuring more intuitive navigation and streamlined function, the newly released Biodex Advantage BX software is designed to work with the Biodex System 4 Dynamometer that helps clinicians return athletes to sport safely.
A total redesign of its legacy software, the modern interface features a more streamlined functionality and intuitive navigation that guides users step by step. It also features a fresh new look that is modern, clean and easy to read on the 22-inch touchscreen. On-screen graphics are designed to chart performance, helping to motivate patients and encourage compliance with a rehab plan, according to Shirley, NY-based Biodex Medical Systems Inc, in a media release.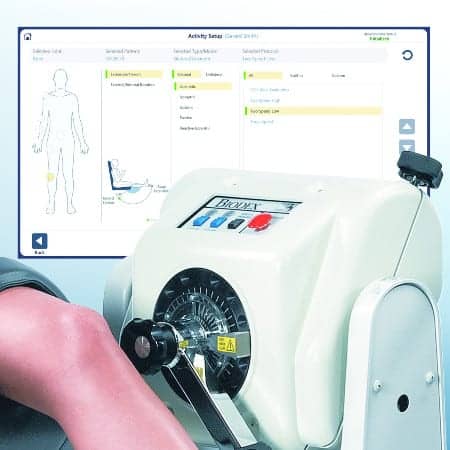 Engineered to isolate performance data for a broad range of upper and lower body joints, the System 4 and its earlier iterations are often used in sports medicine for isokinetic tests of the knee after ACL reconstruction. The Biodex system provides detailed reports that are helpful in determining whether an athlete is at an appropriate level to get back in the game.
Current research suggests specific criteria to determine return-to-play, including isokinetic testing, can help reduce the likelihood of reinjury. Understanding the high risk of reinjury if players are cleared for play prematurely, Biodex sought to simplify operation of the dynamometer software to increase accessibility and usability to new and existing users, the release explains.
"Over the years, we've been gathering feedback from our users all over the world about how we can improve the system's operation to work for them," explains Bill Galway, International Business Development Director for Biodex, in the release.
"Everyone familiar with the software is very excited about the updates we've made, and people new to the system are pleasantly surprised at how simple the new software is to understand."
For more information, visit Biodex.
[Source: Biodex Medical Systems Inc, PRWeb]