CAPTION: Entrusting staff members with responsibility instills self-confidence, contributing to their own feelings of self-worth and job satisfaction.
How to create a smooth-functioning, positive environment that leads to better experiences for patients.
By Lindsay Boillot, PT, DPT, and Jonathan Pospichal, PT, DPT, COMT, CSCS
For all the joys of working in physical therapy and seeing patients improve their lives—whether through better mobility, recovery from an injury, decreased pain, or the myriad other benefits we facilitate for them—the day-to-day work of managing a practice's operations can present a range of challenges. These hurdles are as unique as the people who work at the practice and can vary depending on whether it is staffed with new graduates, seasoned professionals, or a broader mix of experience levels.
As clinic directors, our biggest job is to channel the energy of the practice to create a positive and warm environment for our patients so that they have the best setting possible for healing and recovery. In our combined 22 years of experience working with physical therapy clinics across the country, we've come to find that a lot of practice management comes down to good leadership and human relations. Below are our best tips for creating a smooth-functioning, positive environment that leads to better experiences for patients.
1) Always Be Training Your Next Leader and Other Staff
Investing in the development of a second-in-command leader creates an environment in which employees are bought in, work harder, and see growth opportunities for themselves. Blocking regular time on your calendar to meet with your top leaders on practice management skills such as marketing, scheduling, or managing drop percentages not only improves their job performance, it also allows you to delegate and focus on other issues.
The same goes for other members of your staff. You should make time regularly to meet with them one-on-one to encourage individual growth and engagement. Sometimes this requires a bit of additional investment in the beginning when it might feel quicker and easier to do it yourself, rather than taking the time to show or re-explain. However, the investment you make will not only empower staff to properly complete their tasks, it also will contribute to a better-functioning team. Employees who feel heard are 4.6 times more likely to be empowered to perform their best work.1
2) Know Your People, and Make It Personal Before Business
Take an interest in your staff as individuals, ask questions about their hobbies and interests, and get to know them. Employees who know that you are invested in them as people are usually happier and more committed in their work and more likely to want to stay in their jobs.
One tool we use is a quarterly "stay interview," as opposed to an exit interview, aptly named because we want employees to stay with us. These check-ins help us know what's working for our employees and what isn't. We ask about their most recent good day at work and why it was good, as well as ask about their last bad day at work. We ask what they would change about the way things are done and how they see their career progressing. We look to find out what drives them and gives them satisfaction in their work so we can take action as managers. We want to know them at a deep level and build trust that shows them we are on their side.
3) Be Open and Transparent as a Leader
As much as you need to know your staff personally, it's not a one-way street. Let your staff get to know you. Share your thoughts and anecdotes. Also, be willing to share company updates. It helps to build trust and ensure they know you are on their side.
4) Give Feedback and Coaching Immediately
Teach in the moment so that the little things don't grow big. Provide feedback immediately—and privately—so that potential issues become non-issues.
[sidebar float="right" width="250″]Product Resources
Software to help manage a physical therapy practice is available from these manufacturers:
Clinicient
http://www.clinicient.com
MWTherapy
http://www.mwtherapy.com
Net Health
http://www.nethealth.com
Practice Perfect
http://www.practiceperfectemr.com
Raintree Systems
http://www.raintreeinc.com
TheraOffice
http://www.theraoffice.com
WebPT
http://www.webpt.com[/sidebar]
5) Give Positive Feedback Even More Frequently
Especially when it's busy, it's easy just to focus on the moments when a correction is needed, but it's even more important to celebrate the small wins. Order pizza lunch after a tough morning, let everyone wear jeans because of a great job, send handwritten thank-you notes, or even just verbally thank people.
6) Work Smarter, Not Harder
As the leader, it's common to believe we need to be first in the office and last to leave, but that often leads to burnout. Working smarter is delegating. Since you've invested in training your staff, they are equipped, and entrusting them with responsibility contributes to their own feelings of self-worth and job satisfaction.
7) Be Willing to Get Your Hands Dirty
Yes, it's good to delegate, but if there's a need for assistance with a menial task, jump in and help. If staff see that no job is beneath you, they'll feel the same way and be compelled to follow your example.
8) Manage Conflict
It happens. When conflicts arise, deal with the issue early, professionally, and don't be afraid to have hard conversations. As a leader, it benefits you to sit with conflicting parties to discuss their perspectives, try to problem-solve, and to resolve it if it escalates. If it seems too hard to figure out in the small setting, ask your human resources department for support.
Be creative about building relationships within the clinic and outside of work. You might consider team-building exercises or social events. Building relationships with and among the staff is the best pre-emptive measure for managing conflict.
9) Have a Plan A, Plan B, Plan C, and Plan D
The clinic director's job is to problem-solve, and any typical day might involve the "unexpected," requiring you to move staff, manage time differently, or change your plan in another way. Proactive planning sets your staff up for success and instills confidence in them as well.
Jon recently began to manage a new clinic at which standard procedure was that all patient appointments were canceled if a PT called in sick. This approach didn't benefit patient health nor the clinic's productivity. With input from his staff, Jon created a plan for managing PT call-outs so that patients were able to keep their appointments. After a few incidents, this is now the embedded practice, and the staff make the necessary adjustments independently.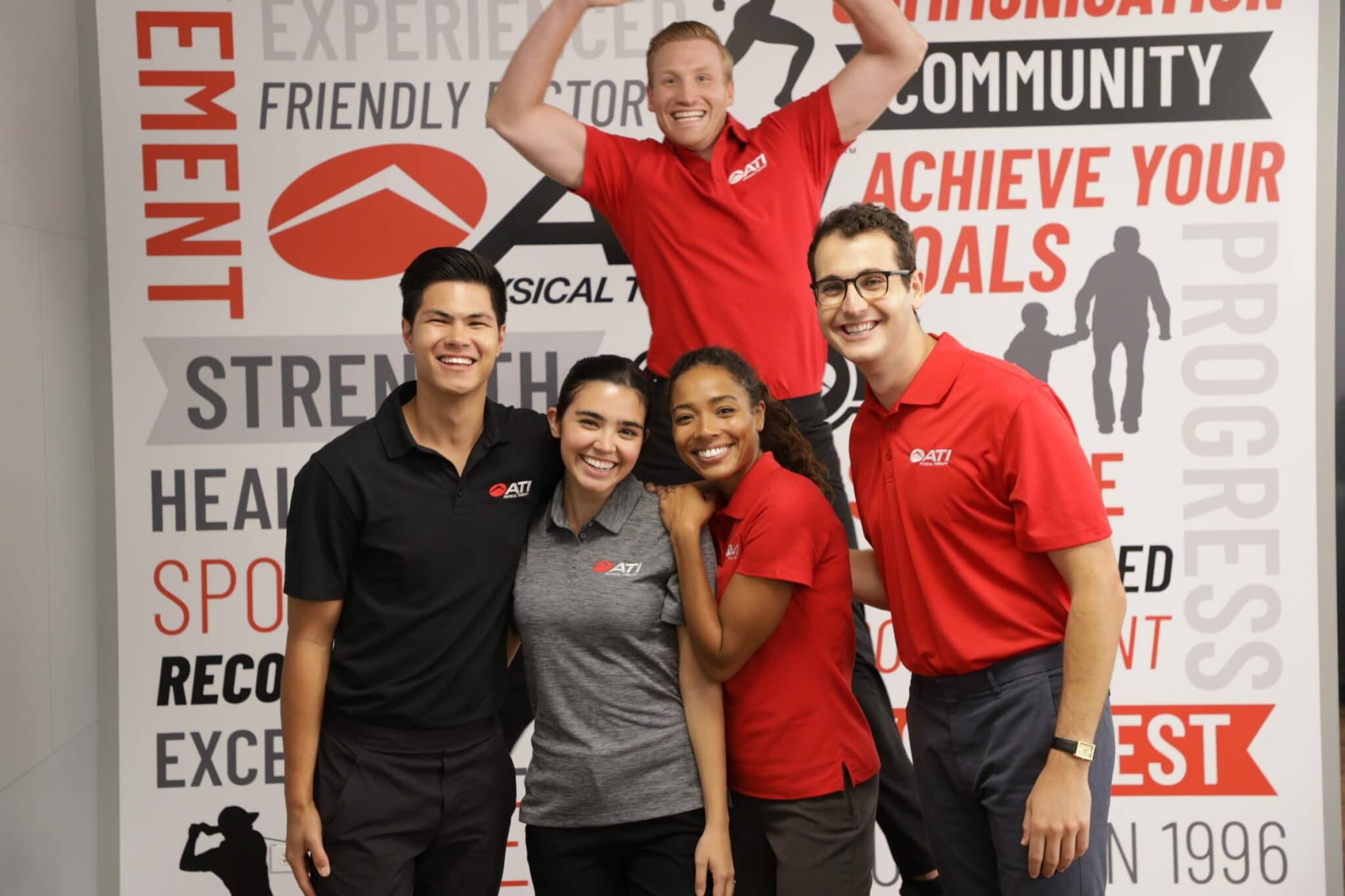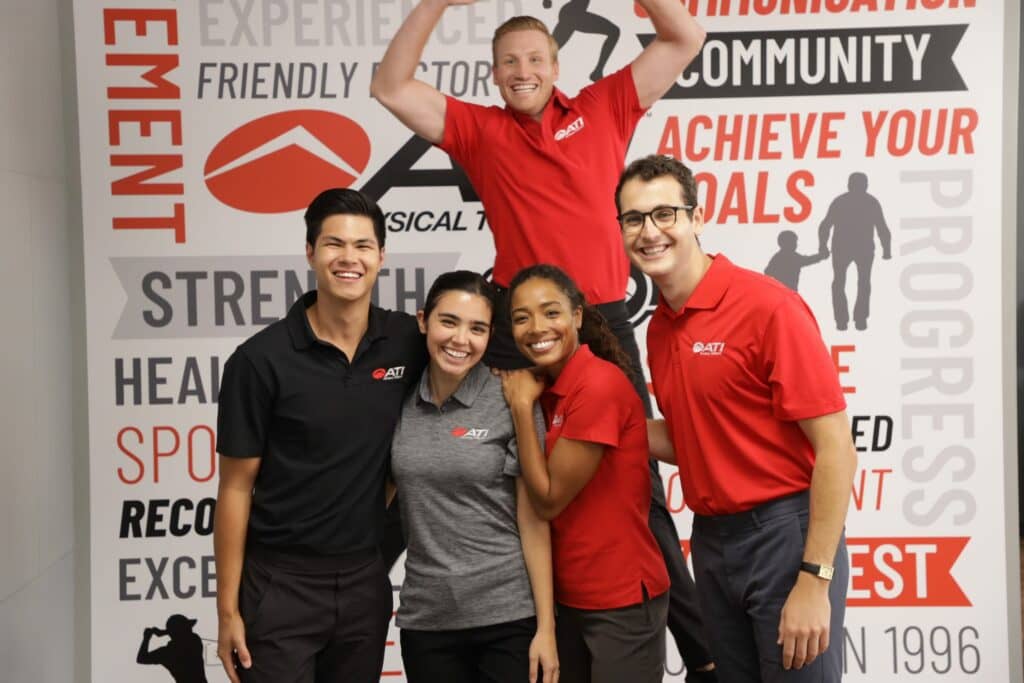 10) Always Set a Positive Tone
Bring your positive energy to the office, and check your problems at the door. You are in charge, and the staff will take their cues from you, which ultimately will impact the patient experience—improved outcomes for patients and happy customers. PTP
Lindsay Boillot, PT, DPT, and Jonathan Pospichal, PT, DPT, COMT, CSCS, are both multi-site clinical directors for ATI Physical Therapy. ATI is the largest independent, outpatient physical therapy provider in the United States, with more than 900 locations and 2.5 million unique patient cases. Boillot manages clinics in Northeast Illinois outside of Chicago, and Pospichal is based in the suburbs of Seattle. For more information, contact [email protected].
Reference
Beheshti N. 10 Timely Statistics About The Connection Between Employee Engagement And Wellness. Forbes.com. January 16, 2019. Available at: https://www.forbes.com/sites/nazbeheshti/2019/01/16/10-timely-statistics-about-the-connection-between-employee-engagement-and-wellness. Accessed Oct. 6, 2021.