DJO announces the availability of its Outpatient Arthroplasty Risk Assessment tool, the OaraScore, designed to provide medical professionals with the information needed to assess the appropriate postoperative length of stay after total joint arthroplasty.
The OaraScore, part of DJO's healthcare solutions platform Motion MD, was developed in partnership with R. Michael Meneghini, MD, director of orthopaedics and joint replacement, and Peter Caccavallo, MD, medical director of peri-operative medicine, both from Indiana University Health Saxony Hospital.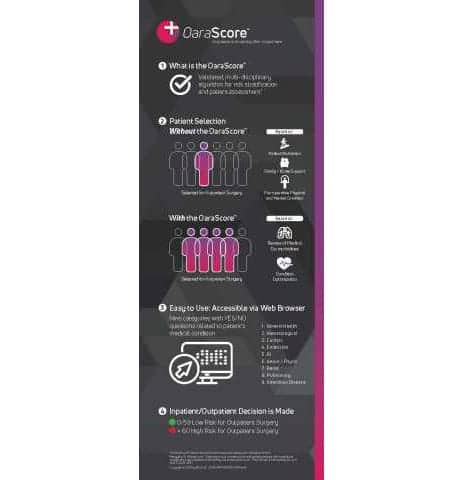 It utilizes a validated, multi-disciplinary algorithm that was featured in a peer-reviewed study published in The Journal of Arthroplasty in August 2017.
The retrospective study revealed that a patient's OaraScore for total joint replacement more precisely predicted the ability for the patient to discharge home the same day or the next morning than existing risk tools, such as ASA and CCI, explains a media release from DJO.
"Surgeons generally have a good sense of which patients will do well in an outpatient or rapid discharge environment," Caccavallo says, in the release. "OaraScore allows the medical professionals to move beyond that standard and utilize a scientifically sound and consistent approach to risk stratification."
The utility and favorability of the tool has also been independently validated in an AAHKS podium presentation by Duke University researchers in 2016 and in an independent study by New York University Langone Medical Center published in The Journal of Arthroplasty in August 2018, the release continues.
"Previous risk stratification tools looked at more superficial measures like patient motivation, home support, and pre-operative physical and mental condition," states Jeffery A. McCaulley, global president of DJO Surgical.
"OaraScore is the only clinically validated, peer-reviewed risk stratification tool for total joint arthroplasty, and its values are derived by evaluating nine critical co-morbidity factors and overall medical conditions, all in real time."
In addition to utilizing OaraScore to determine if patients are low risk or high risk for outpatient joint replacement surgery, the software also tracks readmission rates and compares data to all other physicians utilizing the tool. All confidential patient data remains encrypted throughout the process.
"OaraScore provides medical professionals with a more consistent and verifiable methodology to reliably and safely base admission decisions," McCaulley adds. "Considering the flexibility, portability, and ease of use of this tool, we believe OaraScore could become the standard of clinical practice."
[Source(s): DJO, Business Wire]