Manufacturers share tips about the latest treatment tables that physical therapy clinic managers can use to make smart purchase decisions and extend product life
Compiled by Physical Therapy Products staff
Treatment tables are more than just a rectangular block on which patients lie. Rather, they are carefully designed and built to help physical therapists perform manual treatments in a more comfortable environment for both the patient and the therapist. Some of the characteristics of tables built with the PT market in mind include a high degree of adjustability, space for storage, and support for loads that are heavier than average. An array of colors and finishes is available to fulfill aesthetic needs.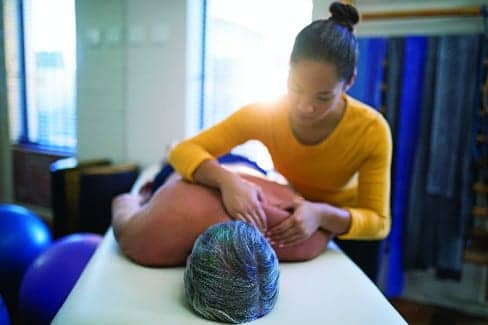 In this roundtable, treatment table manufacturers share their thoughts about how their tables have evolved and note their most popular products and "upgrade" features. In addition, they advise therapists on how to purchase the correct treatment table for their needs, and once purchased, how to care for it to ensure a long life.
Participating in this Q&A are: Brian Kolenich, Manager, R&D Product Development, Bailey Manufacturing Company; Tom Huang, Sales Manager, Everyway4all; George Batchelor, Director of Sales & Marketing/International Sales, Hausmann Industries, a division of Dynatronics; Tanner Siegling, Regional Sales Manager – PTA, Pivotal Health Solutions; and Brenda White, Sales Consultant, Tri W-G Inc.
Q. Describe your current treatment table product line and how it has evolved. For what types of facilities are your tables appropriate, and which functions or features are the most popular?
A. Brian Kolenich, Bailey Manufacturing Company: Our treatment tables are primarily wooden structures with a padded vinyl top. While these materials have not changed much over the years, the designs have evolved to meet the changing needs of rehabilitation facilities, outpatient clinics, athletic training rooms, and therapy classrooms. Current trends demand that our tables hold more patient weight, include more storage space, have more color and finish options, and be economical to obtain and maintain. That being said, our most popular tables and features continue to be the simplest and easiest, such as open shelves and paper holders.
Tom Huang, Everyway4all: Everyway4all treatment tables are designed to provide users with great comfort, ease of use, structural stability, reliability, and accessibility of controls. At Everyway4all's factory, a dozen High-End 7 Axis Robotic Master Arc Welders perform constant precision welding and monitoring. Human master welders fulfill more complex work tasks that cannot be achieved by robots as well as develop, re-work, fine tune, and model new products. All of Everyway4all's proprietary structural frames in tables and couches utilize "Full Closed-Loop" welding processes to reinforce the cross-sectional area of the welded point, especially the butt joint.
High-tensile strength Square Steel Tubings of (a) * 3cm, (b) 7 3cm and (c) 8 4cm by the tube wall thickness of 2mm and 3mm are used in our tables and couches to help them withstand the demanding loads and forces for which they are designed.
Our most popular table is our Tristar 3-Section Treatment table EU25 due to its versatility in terms of adjustable head and foot drop sections.
George Batchelor, Hausmann Industries: Hausmann has been building treatment tables since 1955. Our tables have gone through a metamorphosis from being a table to treat a patient on, into a table to treat a patient with. Our new Torque Table allows therapists to isolate, stabilize, manipulate and fixate their patients without the help of others. It can help make the physical therapist's day a little less hard on their bodies and improve the amount of torque they can deliver to the patient's stretch.
Tanner Siegling, Pivotal Health Solutions: Our current treatment table line offers wood tables, aluminum tables, and steel elevating treatment tables. Over time we have added additional options such as wood stains, powder coat colors for our wood and aluminum tables, custom branding packages to promote and personalize company logos, and more. Medical professionals and therapists use our tables in hospitals, PT and OT clinics, chiropractic offices, massage therapy clinics, and sports performance centers.
Our most popular features are the dual foot bar control with whisper-quiet lift system for our Thera-P Electric treatment tables; custom branding packages including color edge print, deboss, or slip covers; and the lift back option on our stationary tables.
Brenda White, Tri W-G Inc: Tri W-G steel-constructed motorized electric and hi-lo treatment tables are designed to be favorable to hospital and private facility settings. We also offer treatment tables with weight capacities up to 750 lb. Select models have enclosed storage and motorized raised back and leg sections. Our tables require no manual operation or hydraulics to maintain and come with a 10-year limited warranty.
Q. When our readers shop for their next treatment table, what questions should they ask themselves to make sure they purchase the right table for their needs? What consideration should be given to factors such as adjustability, durability, service agreements, etc?
A. Brian Kolenich, Bailey Manufacturing Company: Getting value for your budget is important, but so is long product life. The most important factor is, do the features meet your needs? After that is the question of durability and product support, reflected in the warranty. We have a limited 5-year warranty and support our tables throughout their lifetimes, which often reach 25 to 30 years. We have solid technical support and a brisk parts business. If your table features electric or manual height adjustment, and you have more than one table, then having a service agreement with a biomed repair firm is a very good choice.
Tom Huang, Everyway4all: All structural members of the Classic Bracket Frame design are built to counteract the loads and forces of compression, shearing, and bending stresses from both patient and therapist. Whether a more adjustable, two-section, or three-section table is better depends on the therapist's needs or personal preference. We have a variety of styles to satisfy their needs.
George Batchelor, Hausmann Industries: What is the material? Wood tends to chip and dent, and that becomes an area where germs can grow. Laminate with our 3mm edging is very durable and can be cleaned with strong disinfectants. You want a tough table. Warranty and service agreements are not really important if you are buying a good-quality table.
Tanner Siegling, Pivotal Health Solutions: Is this table going to hold up to your patient caseload, and does this table have the appropriate load rating for your patient population? Will this table provide ergonomic benefits for both patients and therapists? Customers should consider all factors when purchasing a table or piece of equipment such as durability, length of warranty, aesthetics, and adjustability.
Brenda White, Tri W-G Inc: When a clinician is looking for their next treatment table, they must focus on their needs. What weight capacity do they need, what size do they need to accommodate their patient population, what height/height range do they need, do they need a raised back section, do they need storage, what is the product warranty, what is the UL Classification standard, is the manufacturer Risk Management compliant?
Q. Why do most of your customers purchase a table that would be considered an "upgrade," and what features are they most often looking to get when they upgrade?
A. Brian Kolenich, Bailey Manufacturing Company: Most customers who add or change features to tables do so to fulfill a specific set of requirements, and in our company this is reflected in our ability to customize our tables relatively easily and for a reasonable cost. Our most popular upgrades are table color and size. This includes dozens of wood finish colors, including custom color matching, and a dozen colors of vinyl tops. Height, width, and length can be changed. Thickness and type of padding can be changed. We can work with your interior designer or project manager.
Tom Huang, Everyway4all: We keep the most advanced and updated models of our treatment tables in stock. We are a one-stop shop for all therapists and doctors who are looking for the most up-to-date treatment tables. Great comfort, ease of use, structural stability, reliability, and accessibility of controls are the main aspects of our treatment table line.
None of our customers want to replace old tables with new tables that have multiple sections (six or seven sections). We do have a six- and seven-section table. However, a table with six or seven sections is the not considered the best table. Treatment tables are not considered "better" when they have more sections.
George Batchelor, Hausmann Industries: The biggest upgrade we see being requested is to get a hi-lo version of their current table. It should get down to 20 inches to facilitate wheelchair transfer and come up to a good working height for the physical therapist. In many cases the ADA tax credit can even help defer some of the cost of the new table.
Tanner Siegling, Pivotal Health Solutions: Most customers consider purchasing an upgraded table when the current table becomes unstable or if they are looking to improve the aesthetics of their clinic. The most sought-after upgradable features include durability, aesthetics, table functionality, and load rating.
Our aluminum table line, including treatment and mat tables, offers clinics the ability to utilize treatment furniture within a therapy pool setting. Compared to wood and steel, the aluminum frame will not warp or rust in humid conditions. We also offer a 10-year warranty on the frame.
Brenda White, Tri W-G Inc: Tri W-G's products are high-end products. A customer can be assured when they purchase from us that they are getting a quality product that will last. The customer is looking for features such as motorized-for greater ease to the clinician, higher weight capacities tested to the required 4X safety factor, a 10-year limited warranty, low maintenance, and compliance to the latest UL standards. All these features are for the benefit to the patient, the clinician, and the facility.
Q. What tips can you offer to help clinics make sure all of their tables' functions and/or accessories operate properly and maximize the life of the product?
A. Brian Kolenich, Bailey Manufacturing Company: Two words: regular inspections. I have found that most problems could be solved before they became problems, if only someone had noticed the signs beforehand. This does not have to be extensive; even a short walk-around and close visual inspection will suffice. Often, a table user will not report a table issue to a superior or maintenance person until it becomes a major nuisance. To avoid this, use a formal equipment problem reporting system that will tag a table to remove it from service until the issue is corrected. If your facility is governed by JCAHO, this should already be in place.
Tom Huang, Everyway4all: We have a technician's support line and a department of quality assurance to help with questions regarding functions and/or accessories to help your treatment table operate properly and maximize its life. Lubricating table joints with oil will help maintain its functionality. The best way to clean and protect the table cushion is simply to use the spray for couches and wipe it with towels.
George Batchelor, Hausmann Industries: Use the proper cleaners on the tables. You cannot use hard surface cleaners on vinyl as the vinyl will dry out and crack. Hausmann has worked hard to provide durability and the company has been standing behind our products for almost 65 years.
Tanner Siegling, Pivotal Health Solutions: Perform a bi-monthly assessment on your tables and equipment, and schedule regular maintenance. Clean your table's upholstery with a solution of 10% mild household liquid dish soap and warm water or make a 1:1 solution of Fantastik or Formula 409 and water. For quick cleaning in-between uses, try Protex Ultra Disinfectant wipes. Avoid using harsh chemicals that contain alcohol or abrasives.
Check to make sure the hardware is not loose. Over time, parts can be worn, lost, or damaged, so it is best to contact our customer service department for warranty information and/or replacement parts. Assess all moving parts to make sure they are functioning properly, and use 3/2 oil to allow for unrestricted movement.
Brenda White, Tri W-G Inc: Our treatment tables require no regular maintenance, which is beneficial to the clinician. Tri W-G treatment tables are motorized electric. There are no hydraulics that require maintenance. The function of the table will perform to our described specifications and weight capacities as it has been tested thoroughly. We provide a detailed Owner's/Operator's Manual for each table, and we encourage the table's intended operators to read and understand it. Taking this step to learn how to operate the table properly will help maximize the life of the equipment. PTP