After weathering another year of the COVID-19 pandemic, physical therapy clinics are investing in their futures with increased spending on facility-based equipment.
By Melanie Hamilton-Basich
The past more than 2 years now have been a rollercoaster ride full of uncertainty, thanks to the COVID-19 pandemic. Just when we think we know what to expect and things are looking up, we're thrown another curve ball, like the delta and omicron variants. While people have continued to need physical therapy, some have had difficulty seeking it out due to fluctuating restrictions, limits on the types of services clinics could provide, and concern about the spread of the virus. All of these factors, in addition to supply chain issues, have affected purchasing decisions for physical therapy facilities. But based on data collected by Physical Therapy Products, that appears to be changing for the better.
In our most recent annual survey of facility-based equipment (valued at $500 or more), Physical Therapy Products polled readers to find out more about their businesses' bottom lines, including where they are focusing their purchasing power. The data collected reveals how much facilities are spending, what big-ticket items are the most popular in 2022, what are still on respondents' wish lists, and how physical therapy businesses are weathering the lingering effects of the pandemic.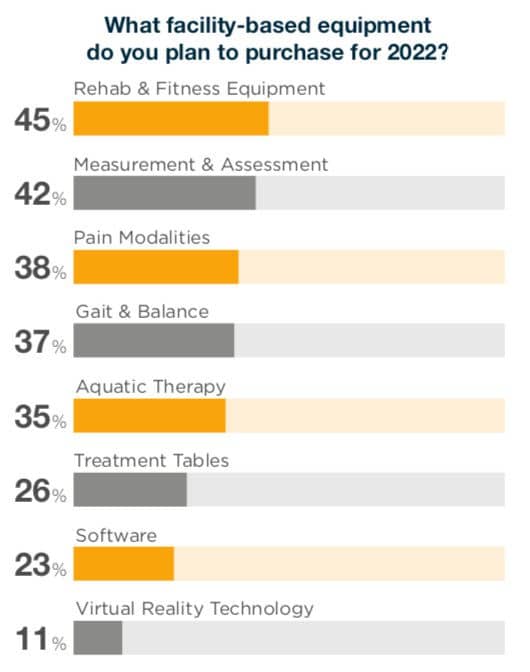 Popular Purchases
Let's take a look at what facilities are buying. According to the results of our survey, almost half of respondents (45%) plan to purchase rehab and fitness equipment in 2022, followed closely by equipment for measurement and assessment (42%). Other popular purchases include pain modalities (38%), gait and balance (37%), and aquatic therapy (35%). Many of these top responses correlate with the products that respondents say traditionally provide them the best return on investment (ROI), which makes sense. Just under half (49%) reported that rehab and fitness equipment provide them the best ROI, followed by pain modalities at 35% and measurement and assessment at 34%. Roughly a quarter of respondents reported purchasing treatment tables and software, at 26% and 23%, respectively. One respondent shared some insight into his facility's 2022 purchases: "Treatment beds and rehabilitation equipment have traditionally provided me with the best return on investment. These are my first purchases, followed by software, spa treatments, and virtual reality technology when it's economically feasible."
Last but not least, virtual reality technology seems to be gaining in popularity. While only 2% of survey respondents said it traditionally provides them the most return on investment, 11% said they're buying it in 2022, and 20% of respondents reported wanting to purchase virtual reality equipment for their facilities in the near future.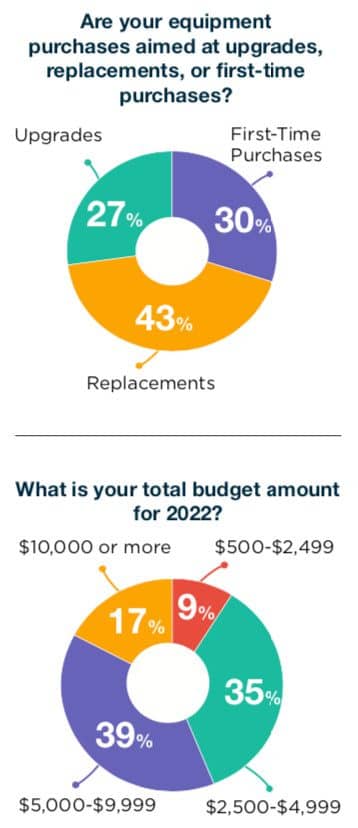 Boosted Budgets
Based on the data collected, facilities have more money to make the capital purchases of their choice in 2022, with increased budgets. Last year, when asked the amount of their total budget, the highest percentage of respondents (35%) reported having budgets under $2,500. This year, only 9% of respondents reported having a budget that low, which is certainly an improvement. Most respondents' 2022 budgets fall squarely in the middle, with 35% reporting a budget of $5,000-$9,999 (compared with 27% in 2021) and 39% reporting a budget of $5,000-$9,999 (compared with 22% in 2021). These results point to a large percentage of physical therapy facilities either already experiencing increased revenue or having confidence that they will soon as the economy continues to recover. The number of facilities with budgets at the upper end of the range stayed much the same, with 17% reporting having a budget of $10,000 or more in 2022, compared with 16% in 2021.
Now let's look more closely at one aspect of how facilities are using their budgets. When asked whether their equipment purchases were aimed at upgrades, replacements, or first-time purchases, almost a third of survey participants (30%) chose first-time purchases, indicating enough confidence in revenue and clientele to expand their offerings. This was very similar to the 32% who responded this way in 2021.
However, the percentage of facilities focusing purchases on replacements vs upgrades virtually flipped. In 2022, 43% report focusing purchases on replacements with 27% focusing on upgrades. In 2021, only 23% focused purchases on replacements with 45% mostly purchasing upgrades. This shift may indicate that some clinics that had already upgraded their equipment didn't need to this year and focused more on what needed to be replaced out of necessity. These numbers also suggest that facilities that held off on replacing equipment last year found themselves needing to buy new equipment that no longer functioned or was unsafe or obsolete.
Overcoming COVID
When asked whether issues related to COVID-19 were affecting their purchasing decisions for 2022, a decisive majority of almost two-thirds (63%) responded "No." This certainly appears to be a good sign and a step in the right direction.
This is not to say that COVID-19 is behind us. One respondent shared, "Since the outbreak of COVID-19, the number of personnel has been greatly reduced." Another reported it has been "difficult to treat all patients in the gym and we have reduced volumes, which reduced revenue." But things do appear to be on an upswing.
It's true that many who answered the survey opined a lack of patients and staff. However, more than half of respondents (51%) reported seeing between 11 and 20 patients in any given week, and 29% reported seeing 21 patients or more. Only 20% reported seeing 10 or fewer patients per week.
Of course, these numbers could be partly due to some physical therapists taking on more patients to make up for low staffing levels. Clinics have adapted in many ways to withstand the pandemic. To accommodate capacity restrictions, some PT practices have expanded their hours so they can see a larger number of patients overall while keeping the number of patients in the facility at any given time to a minimum. Telehealth is also still being used at some practices, although not as much as it was near the beginning of the pandemic. This may be allowing physical therapists to see more patients they would not otherwise be able to treat.
While we're not out of the woods yet, data from this survey seem to indicate that physical therapy clinic owners and managers are becoming more willing and able to expand their spending on purchases that will benefit their businesses and their clients. One survey-taker is viewing purchasing as an opportunity, saying, "More investment can be made in equipment for the later rehabilitation of COVID-19 patients." Even more optimistically, another respondent is "Looking forward to a lucky year in 2022 as the global economy recovers from the impact of the pandemic." Overall, the future is looking bright. PTP
For more information, contact [email protected].
Product Resources
The following companies offer a range of products for capital expenditure purchases:
Aquatic Access
www.aquaticaccess.com
Bailey Manufacturing Company
www.baileymfg.com
Battle Creek Equipment
www.battlecreekequipment.com
Biodex Medical Systems Inc
www.biodex.com
Bionik Laboratories Corp
www.bioniklabs.com
Brookdale Medical Specialties Ltd
www.brookdalemedical.com
GAITRite – CIR Systems Inc
www.gaitrite.com
Clarke Health Care Products
www.clarkehealthcare.com
DIH Technology
www.dih.com/products-solutions/safegait/
Dynatronics
www.dynatronics.com
Everyway4all
www.everyway4all.com
First Degree Fitness (Fluid Power Zone)
www.firstdegreefitness.com
Hausmann Industries Inc
www.hausmann.com
Hudson Aquatic Systems LLC
www.hudsonaquatic.com
HydroWorx
www.hydroworx.com
Interacoustics
www.interacoustics.com
LightForce Therapy Lasers by LiteCure LLC
www.litecure.com
Pivotal Health Solutions
www.pivotalhealthsolutions.com
ProtoKinetics
www.protokinetics.com
Solo-Step Inc
www.solostep.com
Sprint Aquatics
www.sprintaquatics.com
SwimEx Inc
www.swimex.com
SureHands Lift & Care Systems
www.surehands.com
Tekscan Inc
www.tekscan.com
Thought Technology
www.thoughttechnology.com
Tri W-G Inc
www.triwg.com
Vista Medical
www.vista-medical.com
Vonco Medical
www.voncomed.com