[This is an opinion piece contributed Physical Therapy Products by Suzanne Tinsley PT, PhD, NCS]
The concept of "meeting patients where they are" transcends medicine. The idea itself is one of the reasons that compelled me to join the medical profession; a field that continues to inspire me. The transcendence of this concept can be observed in a variety of patients that ranges from those who experience an unexpected stroke to those working through the effects of COVID-19. Each of these patients has a different and specific set of rehab needs, and technology can help meet those needs regardless of where patients are on the recovery continuum.
Technology's Role and Evolution in Rehab
Over time, technology has enabled healthcare professionals to better meet and help their patients make meaningful progress. This process takes hold from the minute a patient enters an episode of care to when they are discharged home; moving forward with a feeling of confidence that they will meet their rehab goals. Advances have been made from standardized assessments to automatic scoring, and as these tools evolve it becomes easier to develop and implement an individualized care plan for each patient. Technology tools help therapists as well, and enable them to meet patients at the very beginning of their rehabilitation journey and assist them throughout the recovery process to achieve better outcomes, faster.
However, as patients progress through treatment, "meeting them where they are" also means challenging them to progress to where they want to be. That entails pursuing the most aggressive approach possible, while still ensuring their safety, with their particular goals in mind. Whether those goals include being able to sit up, walk on their own, or even get back on the golf course, technology allows us to more easily assess a patient's limits, while also maximizing therapy time with appropriate, yet challenging, exercises.
Although physical therapy will always require one-on-one contact, new technologies are allowing us to provide the highest level of personalized care to more patients and ultimately maximize outcomes due to a more aggressive approach.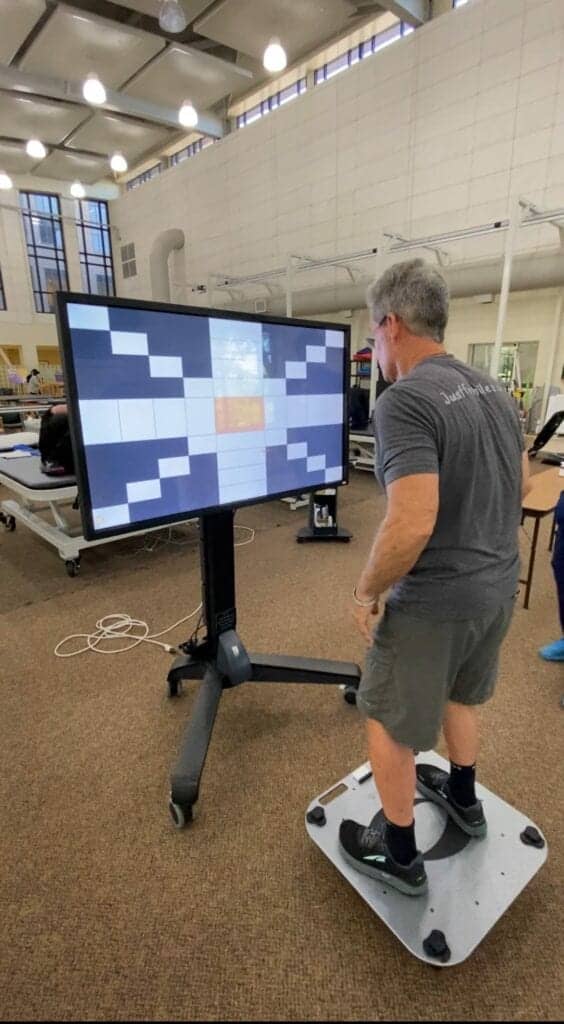 Personalizing Care for Improved Therapy
We know that no two patients respond to treatment or progress through therapy in the same way, at the same pace, or with the same motivations. That is why an intelligent, integrated assessment system is critical—to allow clinicians to constantly gauge where patients are and how to move them forward.
With tools that challenge and assess the visual, cognitive, motor, and balance abilities of individuals, therapy and assessment become one, allowing us to assess a patient's limits of stability, fall risk, range of motion, body sway and more with standard digitized balance assessments. These innovative pieces of technology allow for real-world environments, which we know are important. No longer do therapists have to ask patients to do a simulation on a force plate; they can now move patients around doing tasks that are meaningful and inspiring to them.
This not only allows us to meet patient-specific goals more effectively, but it also allows us to spend more time with our patients, rather than recording patient progress by hand. Simply put, it makes data actionable by giving patients the ability to truly measure and see their own progress, giving them the motivation to keep working toward their desired goals.
By allowing therapists to automatically record and nearly instantaneously print and share information on a patient's progress with them and their loved ones, this type of technology allows us to widen the net of invested parties. It is difficult to underscore how critical family support is for many patients to make meaningful progress. Automatic, actionable therapy data makes every session and benchmark in a patient's recovery that much more impactful.
An Aggressive Approach to Physical and Cognitive Therapy
Advancing rehabilitation technology also allows us to take a more aggressive approach with patients, even if it doesn't seem that way to the untrained eye. For example, for some patients in the early phase of rehabilitation, their primary goals are to facilitate static and dynamic sitting balance. Wireless wearable motion sensors allow patients even in wheelchairs or with limited mobility to perform balance training while seated—measuring and challenging them to another fraction of a degree.
With high-mobility patients, those able to perform weight-shifting and even gait therapy, we can alter the base of support to challenge the somatosensory system required for balance control, thus furthering their outcomes. In one piece of technology, we have the potential to unlock dozens of sub-stages of recovery or reference points along the journey. Similarly, since we are doing this therapy in real patient-specific tasks, these activities will enhance learning as well as improve transfer to novel tasks.
Taking an aggressive approach is not just physical; it is cognitive as well. Whether the approach is visual-vestibular integration or memory and recall, using technology to marry the mental and the physical allows us to treat the whole patient. Research has demonstrated the critical importance of this relationship.
As Technology Evolves, So Evolves Rehab
Contrary to what some in the field may believe, technology will never diminish the therapist's role in the clinic, but rather will help us do more. It is our goal to continue to embrace, adopt, and educate patients about how innovations can support them to achieve their goals. Especially as research continues to show the lasting effects of COVID-19, it is particularly important for therapists to embrace efficiency as we continue to be tasked with treating this large and long-term patient population.
All of this rests on the ability to keep patients engaged. Ultimately, when we as therapists have more confidence in the tools we are using, so too will our patients; allowing us to move further, faster. That kind of progress is good for therapists, for facilities, and, most importantly, for patients.
Suzanne Tinsley PT, PhD, NCS, is Assistant Vice Chancellor; Assistant Dean-SAHP; Parks Endowed Professor of Neurological Rehabilitation; Center for Brain Health Associate Director for Neuro-Rehabilitation; LSU Health. For more information, contact PTPEditor@medqor.com.