PHOTO CAPTION: A therapist at FYZICAL Therapy and Balance Centers, Las Cruces, NM, uses flotation devices to maintain a patient's stability during aquatic therapy. Pool-based Interventions are supported by the scientific principles of buoyancy, viscosity, and hydrostatic pressure and their effects on the human body.
Demand for pool-based therapy is driving expansion at one outpatient clinic even during the pandemic months, thanks to a focus on safe and effective patient-centered care.
By Rosalie Lucas, MPA, PT, and Bridget Scholljegerdes, PT, Cert. MDT
Aquatic exercise has long been recognized for its therapeutic benefits, and many ancient civilizations constructed pools and baths where hot springs provided heated water to soothe aches and pains. In addition to the benefits of warm water for pain relief, the therapy pool is used as part of a progressive exercise program to return patients to their highest functional level. Research on the benefits of aquatic therapy covers topics from pediatrics and neurological disorders to seniors recovering from falls and fractures. It is safe to say that most patients in rehabilitation programs can benefit from the addition of aquatic therapy as part of their comprehensive rehabilitation program.
This past year the world grappled with COVID-19 and the changes in patient care created by the pandemic. Many conditions were treated via telehealth, and therapists were able to provide evaluations and treatment using the virtual platforms. Other patients with complex conditions and medical compromise required in-clinic interventions, and physical therapy was deemed an essential service for those that needed in-person care. In order to keep patients and staff safe and continue to offer aquatic therapy, several modifications were necessary to offer services to the community during the COVID-19 emergency.
Pandemic Protocol
Aquatic therapy patients were seen regularly prior to the COVID-19 shutdown, and as the clinics were required to halt services abruptly there were interruptions in service for some new patients and some that had been attending for several months. Pools closed as governments and licensing bodies evaluated the viral spread and determined safe operations for mask use, temperature checks, safe social distance, and personal protective equipment. In some cases, the aquatic programs were suspended, and business owners updated the pool environment with new safety and personal protective protocols. The pool area underwent power washing, and deep cleaning was implemented weekly as well as disinfectant cleaning in the shower and changing rooms. Pool filters were enhanced to remove small particles, and pool chemical levels were updated to effectively kill any COVID-19 that may have been in the water. Patients were educated about the virus, and the mask policy was implemented throughout the facility and was mandatory in the pool area as well. Aquatic groups for aftercare and community attendees were suspended in the early months of the pandemic to minimize exposure and spread. However, the most medically appropriate patients continued to attend for aquatic therapy services. Safe distancing was implemented, and limited numbers of patients were scheduled to allow space to exercise safely and effectively.
Patients desired pool exercise when they had an active treatment plan and where they had no access to any other aquatic program due to COVID-19. Many patients had experienced positive results with previous pool therapy and were pleased they could continue despite COVID-19 shutdowns. The community referrals continued for aquatic therapy, and therapists referred many patients to pool programs as part of a progressive treatment plan. As the pandemic dragged on and medically compromised patients stayed in their homes with little exercise, therapists noted a decline in previous patients as they returned to the clinic for treatment. Many were noted to have breathing issues, strength decline, and balance deficits that made a land-based program challenging. Patients reported benefits from attendance, including relief of painful conditions, improvement in strength and function, and relief from social isolation.
[sidebar float="right" width="250″]Product Resources
Pools, spas, and accessories for water-based rehabilitation are available from these manufacturers:
Aquatic Access Inc
www.aquaticaccess.com
Endless Pools
www.endlesspools.com
Hudson Aquatic Systems LLC
www.hudsonaquatic.com
HydroWorx
www.hydroworx.com
Nespa Tiled Spas
www.tiledspas.com
NZ Manufacturing
https://nzcordz.com
Sprint Aquatics
www.sprintaquatics.com
Sure Hands Lift and Care Systems
www.surehands.com
SPRI Products
www.spri.com
SwimEx
www.swimex.com[/sidebar]
For More Options, Just Add Water
The evidence in support of pool-based and hydrotherapy interventions considers the scientific principles of buoyancy, viscosity, and hydrostatic pressure and their effects on the human body. Physical therapists deliver skilled treatment to individuals by fully understanding and appreciating the differences in aquatic exercise and land-based activities. Buoyancy can be used to make movement easier or to create resistance, and the force of buoyancy is greater toward the surface and resistance is greater in the deeper water. Water exercise has been shown to decrease stress on joints and allow greater range of motion than on land.1 Evidence-based studies have determined that lessening the weight-bearing stresses are calculated as follows:2
• A patient submerged to the anterior superior iliac spine reduces weight-bearing by approximately 50%
• A patient submerged to the xiphoid process reduces weight bearing by approximately 70%
• A patient submerged to the most distal cervical spine above T1 level reduces weight-bearing by approximately 92%
Physical therapists must also consider that increased speed of movement creates increased resistance, and the combined effects of pool-based exercise means heart rate must be carefully observed and adjusted for water exercise.3,4 When low-intensity exercise is prescribed, it is recommended to take 11 beats off the land-based target heart rate and high-intensity exercise requires that 17 beats be taken off the land-based target. Heart rate, oxygen saturation, and blood pressure are recorded before and after each pool treatment and exercise parameters are adjusted accordingly.5,6 Multiple studies support pool therapy as an effective treatment to improve pain, balance, function and patients with osteoarthritis and orthopedic diagnoses may benefit from skilled therapeutic interventions.2,3,7,8-11 Other indications for pool-based hydrotherapy include the following:
• Provide enhanced or increased sensory input3
• Achieve muscle relaxation and spasticity reduction3
• Increase circulation and reduce swelling3
• Improve strength3
• Improve gait and normalize patterns3
• Improving breathing patterns and stress tolerance, improved sleep3
• Increase ROM3
• Improve perception and sensory impairments3
• Improve coordination3
• Weight reduction6
The pool temperature must be considered for safety and effectiveness of exercise type and patient goals.
General exercises such as strengthening may range from 78.8°F (26°C) to 91.4°F (33°C)8
Aerobic exercise treatments may range depending on exercise intensity8
• ≤ 80% of max heart rate – might range from 78.8°F (26°C) to 82.4°F (28°C)
• > 80% of max heart rate – might range from 71.6°F (22°C) to 78.8°F (26°C)
This therapeutic modality must be carefully prescribed and delivered with full knowledge of contraindications and precautions as well as COVID-19 safety protocols. Therapists must take a full history and perform a comprehensive evaluation using standardized testing before prescribing a pool-based exercise program. Contraindications to pool-based hydrotherapy are uncontrolled medical conditions especially where an episode in the pool would be dangerous. Epilepsy, unstable cardiac conditions, open wounds, severe pulmonary conditions, as well as severe behavioral and mental disorders and any severe or acute illness that is not controlled and could result in drowning, are contraindications to pool therapy.3,5,6,8 Precautions for pool therapy are related to time and temperature during pregnancy, and risk to the fetus is reduced at pool temperatures below 89.6 degrees. Compromised cardiovascular systems in older adults have been shown to respond best to activity in the pool for 10 minutes initially and progress to 20 minutes safely. Non-compromised cardiac patients may exercise for 20 minutes in the pool safely as monitored by the physical therapist.3,7 Care must be taken with patients who exhibit any fear of the water or who have known neurological disorders with impaired and uncontrolled movements.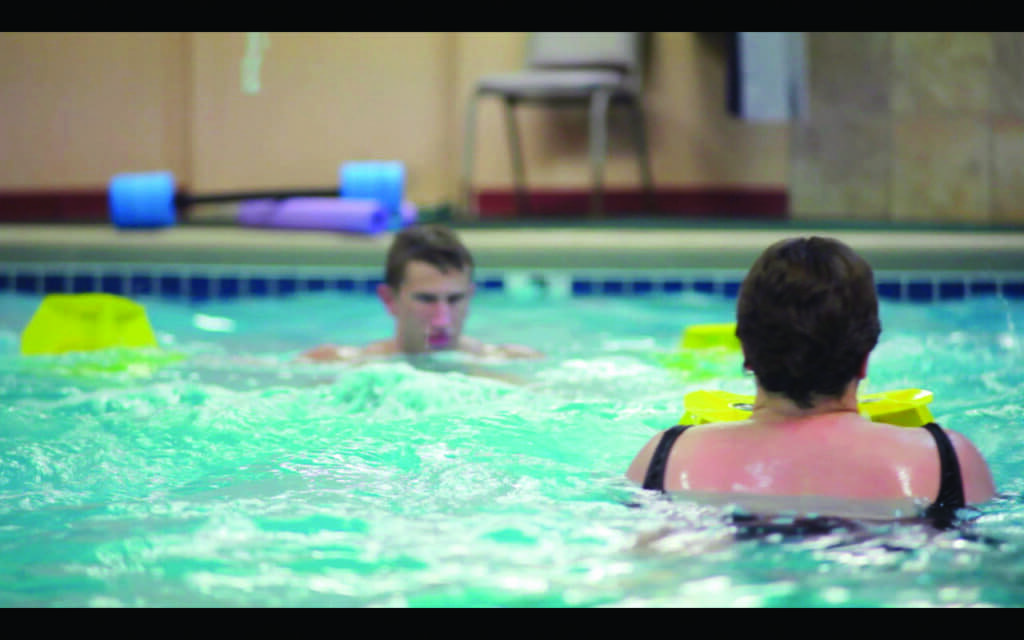 Pool-based therapy is indicated for a wide range of patient diagnoses, and evidence continues to support that outcomes achieved for musculoskeletal conditions are equal to or better than land-based exercise.12 Several studies support improved measures in reducing pain and improving function in patients with hip osteoarthritis,10,11,13 and in patients with rheumatoid arthritis who attended for at least 4 weeks of hydrotherapy.14 Research involving TKRs demonstrated implementation of pool therapy 6 months postsurgery resulted in significantly greater improvement in pain, stiffness, and function than the land-based group.15 Similarly, evidence supports aquatic-based therapy provides favorable outcomes for patients with fibromyalgia compared with land-based exercise. Chronic low back pain pool-based treatment for 8 weeks 5 times a week for 60 minutes in a group format was found to significantly reduce pain, decrease disability (Owestry Disability Index), and improve quality of life scores where no changes were reported in the control group.16
Clinic owners recognize these benefits for their patients and choose to offer aquatic therapy as a highly skilled, medically necessary, and efficacious treatment. Pool-based therapy is billed under the CPT code 97113, and reimbursement is related to the skill level of physical therapists delivering care.17 Pool-based exercise programs must be provided by operators that maintain the highest safety protocols for the pool environment and employ skillfully trained therapists that design interventions for progressive exercise to move the patient toward their functional goals. When the patients succeed, the clinic succeeds, and the community is served with excellent care. PTP
Rosalie Lucas, MPA, PT, is a 1982 Physical Therapy graduate from the University of Alberta and a 2003 Masters in Public Administration graduate from Utah State University. Lucas holds Group Fitness and Senior Fitness Specialization certificates through ACE and has completed advanced certification in balance and vestibular therapy. She works with the executive team at FYZICAL Therapy and Balance Centers in Las Cruces, NM, and El Paso, Texas.
Bridget Scholljegerdes, PT, Cert. MDT, is a 1999 Physical Therapy graduate from University of Missouri-Columbia who holds advanced training in vestibular therapy and Mechanical Diagnosis & Therapy. She is an avid athlete, a Level 10 Women's Artistic Gymnastics judge and owns Elevate Gymnastics and Athletics. She is a clinic director and works with the executive team at FYZICAL Therapy and Balance Centers in Las Cruces, NM, and El Paso, Texas. For more information, contact [email protected].
References
Cardoso JR, Atallah ÁN, Cardoso AP, et al. Aquatic therapy exercise for treating rheumatoid arthritis [protocol]. Cochrane Database Syst Rev. 2001:4. Art. No.: CD003684. doi: 10.1002/14651858.CD003684
Dale RB, MacDonald J, Messer L. Liquid assets: aquatic therapy offers benefits to a wide range of clinical populations. Rehab Management. 2005;18(3):22-24.
Styer-Acevedo JL. Aquatic PT: equipment & clinical decision making. PT Mag Phys Ther. 1995;3(1):43-46, 72.
Lindle JM, Bottorff CL. Aquatic Fitness Professional Manual. Quoted by: New insight on the effects of water immersion on heart rate [commentary]. AEA Aquatic Fitness Res J. 2005;2(1):1-2.
Geigle P, Norton C. Medical screening for aquatic physical therapy. J Aquatic Phys Ther. 2005;13(2):6-10.
Karner-Rezek K, Knechtle B, Fenzl M, Gredig J, Rosemann T. Does continuous endurance exercise in water elicit a higher release of ANP and BNP and a higher plasma concentration of FFAs in pre-obese and obese men than high intensity intermittent endurance exercise? Study protocol for a randomized controlled trial. Trials. 2013;14:328. doi: 10.1186/1745-6215-14-328
Lombara, A, Palmer E. Hydrotherapy: A Focus on Pool-Based Therapy. Cinahal Rehabilitation Guide. Glendale, CA; 2018
Schrepfer R. Aquatic exercise. In: Kisner C, Colby LA, eds. Therapeutic Exercise: Foundations and Techniques. 6th ed. Philadelphia, PA: FA Davis; 2012:290-314.
Blohm D. Effectiveness of aquatic interventions for children with cerebral palsy: systematic review of the current literature. J Aquatic Phys Ther. 2011;19(1):19-29.
Kim IS, Chung SH, Park YJ, Kang HY. The effectiveness of an aquarobic exercise program for patients with osteoarthritis. Appl Nurs Res. Advance online publication. 2012;25(3):181-189. doi: 10.1016/j.apnr.2010.10.001
White L. Aquatic physiotherapy for management of hip osteoarthritis: a literature review. Aqualines. 2012;24(1):9-17.
Barker AL, Talevski J, Morello RT, Brand CA, Rahmann AE, Urquhart DM. Effectiveness of aquatic exercises for musculoskeletal conditions: A meta-analysis. Arch Phys Med Rehabil. 2014;95(9):1776-1786. doi: 10.1016/j.apmr.2014.04.005
Arnold CM, Faulkner RA, Gyurcsik NC. The relationship between falls efficacy and improvement in fall risk factors following an exercise plus educational intervention for older adults with hip osteoarthritis. Physiother Canada. 2011;63(4):410-420.
Al-Quabaeissy KY, Fatoye FA, Goodwin PC, Yohannes AM. The effectiveness of hydrotherapy in the management of rheumatoid arthritis: A systematic review. Musculoskeletal Care. 2013;11(1):3-18.
Giaquinto S, Ciotola E, Dall'Armi V, Margutti F. Hydrotherapy after total knee arthroplasty. A follow-up study. Arch Gerontol Geriatr. Advance online publication. 2010;51(1):59-63. doi: 10.1016/j.archger.2009.07.007
Baena-Beato PA, Artero EG, Arroyo-Morales M, Robles-Fuentes A, Gatto-Cardia MC, Delgado-Fernandez M. Aquatic therapy improves pain, disability, quality of life, body composition, and fitness in sedentary adults with chronic low back pain. A controlled clinical trial. Clin Rehabil. 2014;28(4):350-360.
Cohn R. A summary of the important content presented at CSM 2007 on reimbursement issues. J Aquatic Phys Ther. 2007;15(2):16-17.