Demand for aquatic therapy is trending upward. Water-based rehabilitation methods have few contraindications for use, which means therapy pools can bring the benefits of aquatic physical therapy to patients who range from sedentary seniors to active athletes. The healing qualities of buoyancy, support, and temperature-controlled water are available in a line of products from full size in-ground and above-ground pools to smaller modular units that accommodate one or two users. Features such as underwater treadmills, underwater video monitoring, countercurrent systems, as well as pool exercise equipment complement these pool products to help to improve recovery times. Pool lifts are also a critical part of this category that help maneuver patients who have limited mobility into the water.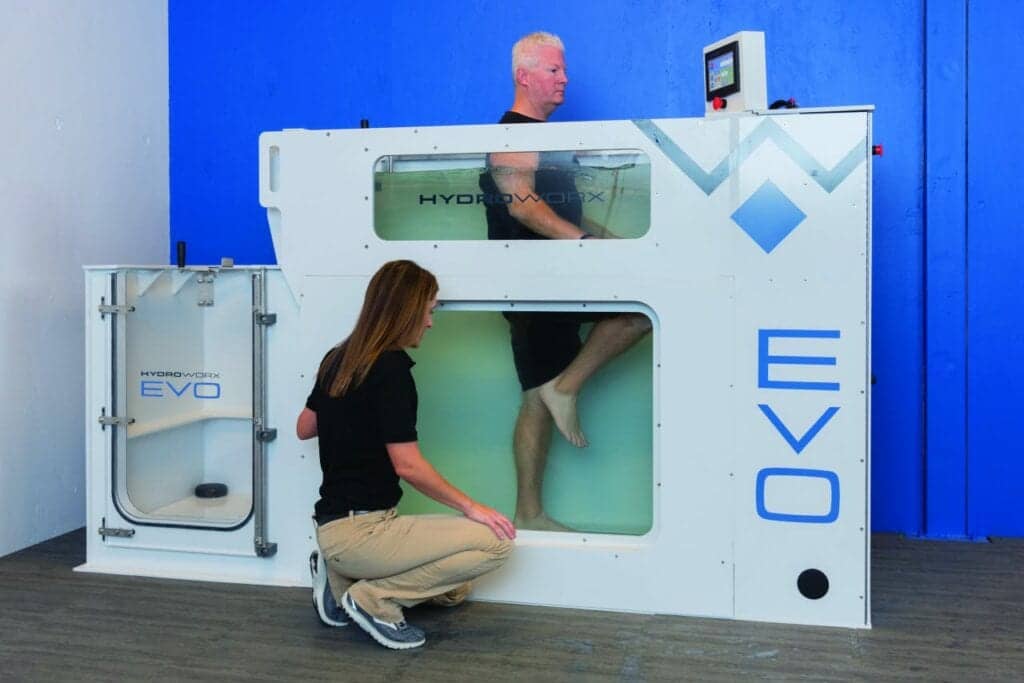 Above-Ground Aquatic Therapy Treadmill
HydroWorx, Middletown, Pa, introduces the EVO – the latest addition to its line of freestanding aquatic therapy systems. The 30-square-foot, self-contained system designed for existing facilities and treatment areas can fit through a standard 36-inch door and into a 3'x9′ space. The EVO is engineered to combine the natural properties of warm water therapy with technology in a safe environment to provide all the benefits of land movement without additional impact and stress on joints and muscles while reducing the risk of injury.
For more information, contact HydroWorx, (800) 753-9633; www.hydroworx.com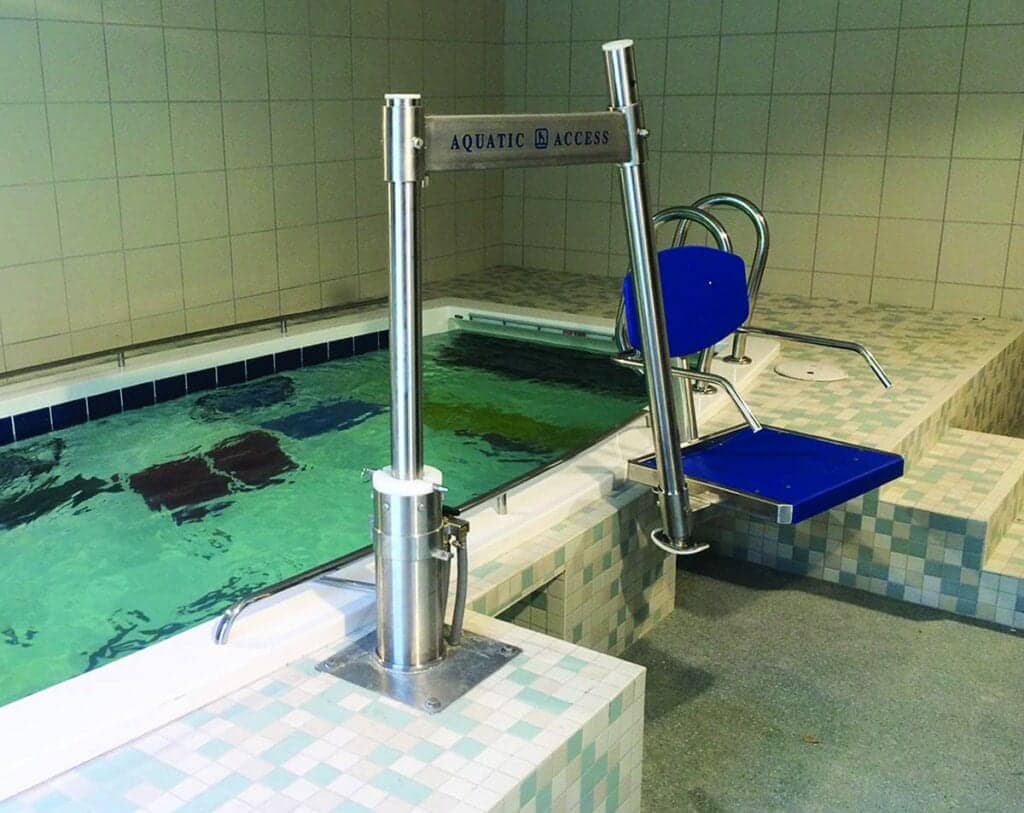 Water-Powered Pool Lifts
For the past 34 years, Aquatic Access, Louisville, Ky, has designed and manufactured a line of swimming pool and spa lifts that provide disabled access into water using city water pressure as the power source. The water is then recycled into the pool. No batteries or electricity is needed to operate these lifts, making Aquatic Access products truly "green" and energy-efficient. The company's engineers can customize designs for hospitals or rehab facilities as well as for the needs of the person at home. Standard lifts have a capacity of 300 to 400 pounds, depending on model. Custom bariatric designs are available with the ability to lift up to 800 pounds.
For more information, contact Aquatic Access, (502) 425-5817; info@AquaticAccess.com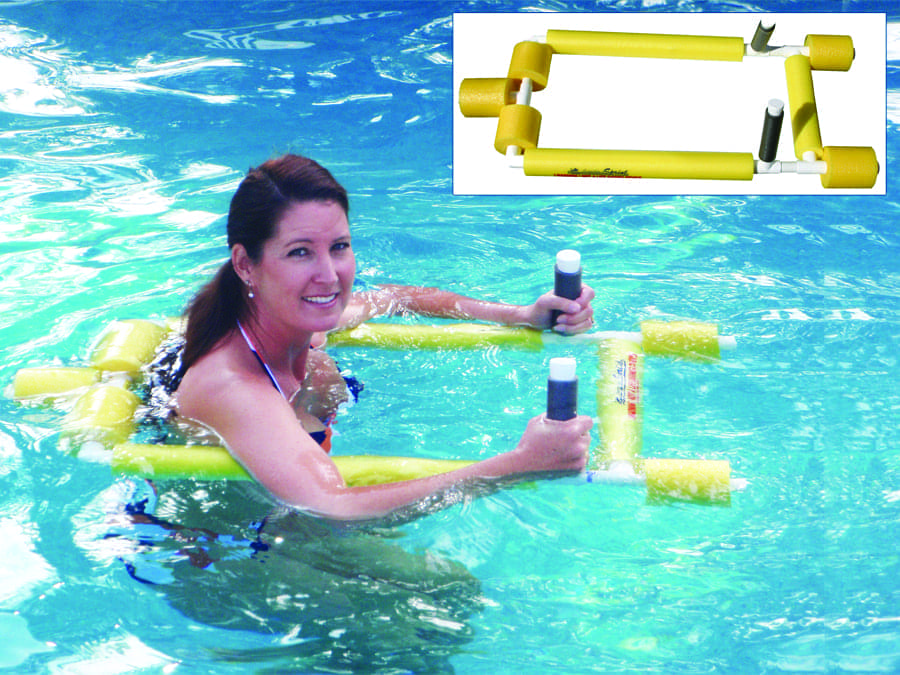 Water Walking Assistant
Sprint Aquatics, Oceano, Calif, provides the Water Walking Assistant Patented (item #698) as a tool to improve balance and gait by providing support to the upper body while helping to increase strength in the legs. The superior-quality PVC makes for uncompromising integrity, and the oversized foam provides both comfort and buoyancy. The handles are padded. Sizes: Inside measurements: XSmall – 11″x17″ approx 2 pounds; Small – 11″x22″ approx 2.5 pounds; Medium – 13″x24″ approx 4 pounds; Large – 15″x24″ approx 5 pounds. Outside Sizes: XSmall – 16″x32″ approx 2 pounds; Small – 16″x38″ approx 2.5 pounds; Medium – 18″x40″ approx 4 pounds; Large – 20″x40″ approx 5 pounds. Made in the USA.
For more information, contact Sprint Aquatics, (800) 235-2156; www.sprintaquatics.com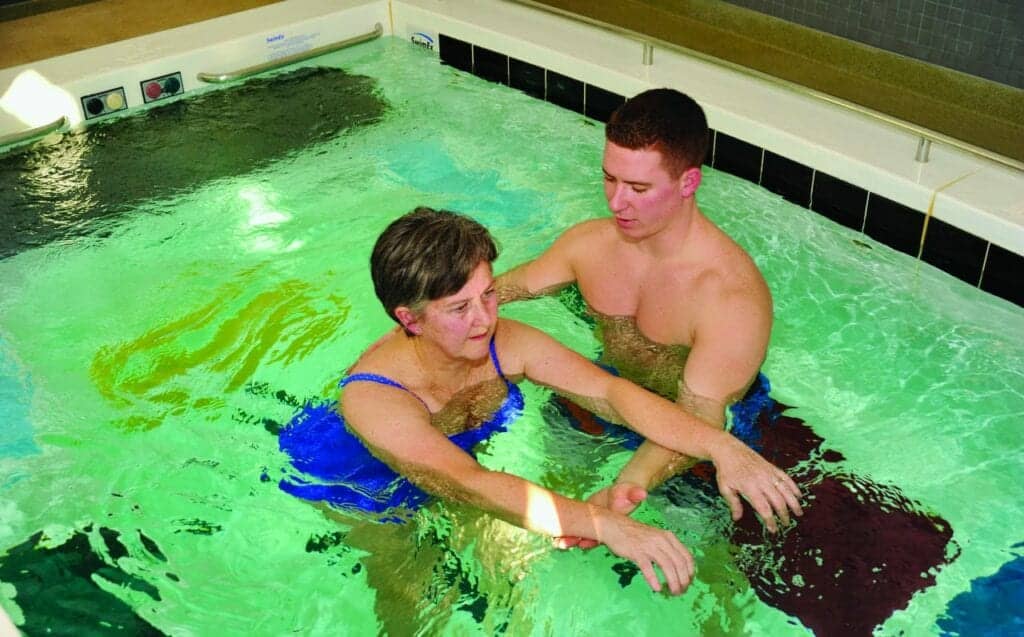 Effective Aquatic Therapy
SwimEx, Fall River, Mass, offers aquatic therapy equipment designed to help users achieve their therapy and fitness objectives with the restorative power of water. Among the many useful options the company provides are the SwimEx Paddlewheel models, which create a smooth, adjustable current to meet therapeutic and fitness needs. The measurable current flow provides patients with instant feedback and motivation and the PT with documented improvement. SwimEx pools are designed to provide a safe environment to work on core strength and balance. SwimEx pools are built to be low maintenance and available in a variety of models, custom colors, workstations, depths and sizes. SwimEx carries a complete line of aquatic equipment, including integrated treadmills and no-construction underwater treadmills.
For more information, contact SwimEx, (800) 877-7946; www.swimex.com